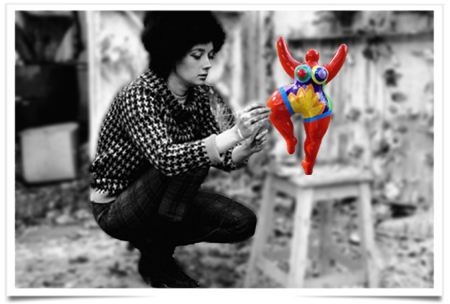 Niki de Saint Phalle (born Catherine-Marie-Agnès Fal de Saint Phalle 29 October 1930 – 21 May 2002) was a French sculptor, painter, and filmmaker.
Saint Phalle was born in Neuilly-sur-Seine, Hauts-de-Seine, near Paris, to Count André-Marie Fal de Saint Phalle (1906–1967), a French banker, and his American wife, the former Jeanne Jacqueline Harper (1908–1980). She had four siblings, and a double first cousin was French novelist Thérèse de Saint Phalle (Baroness Jehan de Drouas). After being wiped out financially during the Great Depression, the family moved from France to the United States in 1933, where her father worked as manager of the American branch of the Saint Phalle family's bank. Saint Phalle enrolled at the prestigious Brearley School in New York City but was dismissed for painting fig leaves red on the school's statuary. She went on to attend Oldfields School in Glencoe, Maryland, where she graduated in 1947. During her teenaged years, Saint Phalle was a fashion model; at the age of eighteen, she appeared on the cover of Life (26 September 1949) and, three years later, on the November 1952 cover of French Vogue.
At eighteen, Saint Phalle eloped with author Harry Mathews, whom she had known since the age of twelve through her father, and moved to Cambridge, Massachusetts. While her husband studied music at Harvard University, Saint Phalle began to paint, experimenting with different media and styles. Their first child, Laura, was born in April 1951.
Saint Phalle rejected the staid, conservative values of her family, which dictated domestic positions for wives and particular rules of conduct. Poet John Ashbery recalled that Saint Phalle's artistic pursuits were rejected by members of Saint Phalle clan: her uncle "French banker Count Alexandre de Saint-Phalle, … reportedly takes a dim view of her artistic activities". However, after marrying young and becoming a mother, she found herself living the same bourgeois lifestyle that she had attempted to reject; the internal conflict, as well as reminiscences of her rape by her father when she was only 11 caused her to suffer from a nervous breakdown. As a form of therapy, she was urged to pursue her painting.
While in Paris on a modeling assignment, Saint Phalle was introduced to the American painter Hugh Weiss, who became both her friend and mentor. He encouraged her to continue painting in her self-taught style.
She subsequently moved to Deià, Majorca, Spain, where her son, Philip Abdi, was born in May 1955. While in Spain, Saint Phalle read the works of Proust and visited Madrid and Barcelona, where she became deeply affected by the work of Antoni Gaudí. Gaudí's influence opened many previously unimagined possibilities for Saint Phalle, especially with regard to the use of unusual materials and objets-trouvés as structural elements in sculpture and architecture. Saint Phalle was particularly struck by Gaudí's "Park Güell" which persuaded her to create one day her own garden-based artwork that would combine both artistic and natural elements.
Saint Phalle continued to paint, particularly after she and her family moved to Paris in the mid-1950s. Her first art exhibition was held in 1956 in Switzerland, where she displayed her naïve style of oil painting. She then took up collage work that often featured images of the instruments of violence, such as guns and knives.
In the late 1950s, Saint Phalle was ill with hyperthyroidism, which was eventually treated by an operation in 1958. Sometime during the early 1960s, she left her first husband. Today she will be 84 years old.