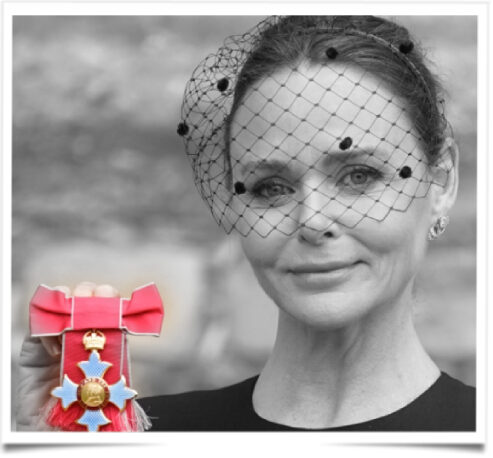 Stella McCartney went to Windsor Castle on Tuesday to see her friend and environmental activist, King Charles III, and to receive her latest award, OBE, for services to fashion and sustainability. The woman who received by Bernard Arnault  100 million euros,  ve ry expensive for a socialite!
Ms. McCartney was among more than 1,000 members of the British public to receive an official award from Queen Elizabeth.  Ms. McCartney wore a bespoke navy dress, handcrafted in her London atelier from Nativa's regenerative and traceable wool. Nativa's wool adheres to the highest levels of animal welfare, environmental protection and care for farmers and local communities, according to McCartney's company.
There's no need to look for the dress in her store, it doesn't exist, as ecology and the Cartney family drives 4X4 not really eco responsible.
Ms. McCartney said she felt "humbled" to be recognized for her mission to bring sustainability to fashion. It's such a proud and emotional day for me to not only receive this incredible accolade from King Charles III, but to have been included in the final birthday honors of Her Majesty Queen Elizabeth II."
But don't worry the king doesn't like anorexics, and prefers women without botox, and old bird it's it preference.