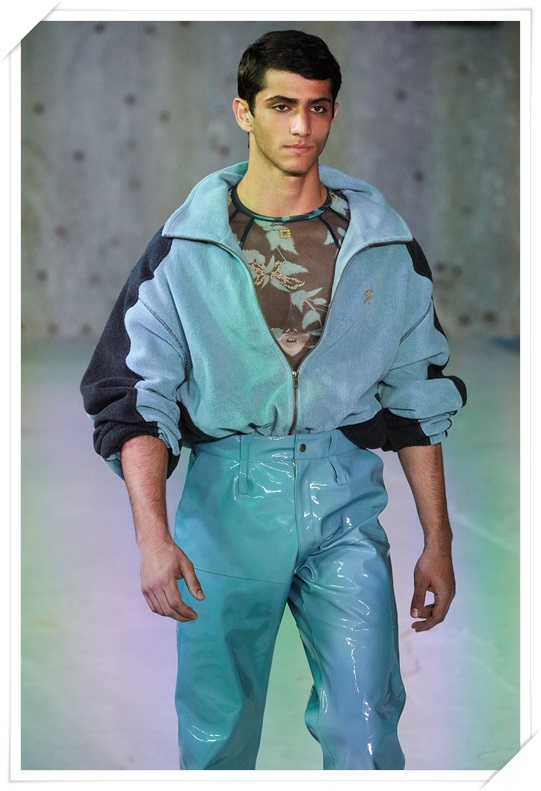 To my opinion, there are only 3 out of 14th competitors to eventually win the ANDAM Grand Prize, The winner will receive 300,000 euros and a year of coaching from Balenciaga's chief executive officer Cédric Charbit who is  the president of the jury this year. You will more information on the 3 finalists to be followed hereafter
GMBH
Berlin is known for its free and uninhibited underground parties. It is in the clubs of this temple of techno that the founders of GmbH, Serhat Isik and Benjamin Alexander Huseby, meet.
Serhat Işık and Benjamin A. Huseby established the Berlin-based label GmbH in 2016, quickly gaining a reputation for sustainable practices and an aesthetic that references underground club culture, migration, politics, queerness and more. Their gender-fluid collections are known for innovative tailoring, streetwear cool and subversive touches, with their fall 2021 collection boasting sensual off-the-shoulder coats and jackets worn by men.
Last month, Işık and Huseby were named creative directors of Trussardi and will present their first Fall collection on 2022.
Işık is a first-generation German of Turkish descent and Huseby, of Norwegian-Pakistani heritage, grew up in Norway. Cultural mixes and a sense of otherness have informed GmbH, and the city and cultural scene of Berlin have also shaped their approach. Last year GmbH was a finalist for the Woolmark Prize.
CASABLANCA
Casablanca comes to life in a palette that simultaneously evokes the clay courts of Stade Roland Garros and the sunbaked terracotta of North Africa; accented with fresh tennis whites and pops of pastel. Sportswear inspired silhouettes are refined but relaxed, and presented in crisp cotton and plush terrycloth.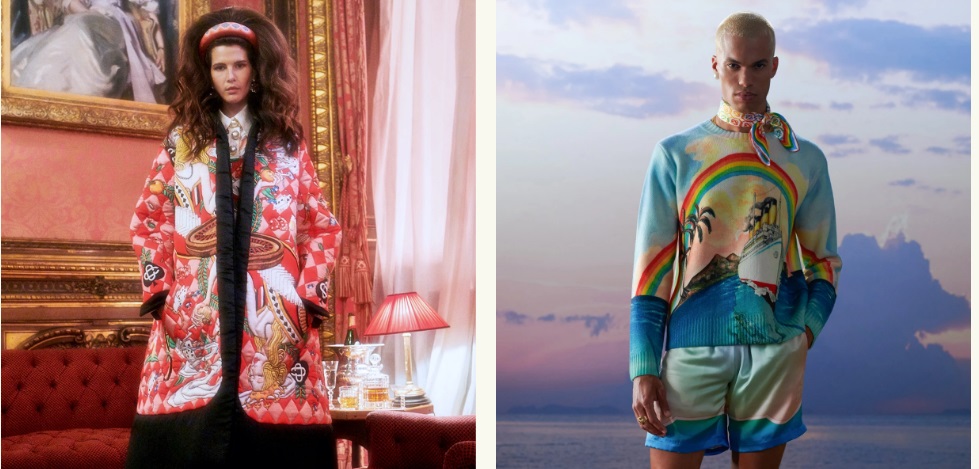 Charaf Tajer launched Casablanca in 2018 as a men's wear label after several other successful endeavors: as a partner in the Paris-based creative collective Pain O Chokolat, as cofounder of the clothing label Pigalle and after launching hot nightclubs, including Le Pompon.
Casablanca quickly became a byword for snazzy silk shirts, funky terry-cloth tracksuits and cool sneakers, the latter done in collaboration with New Balance. Early celebrity adoptees of the label included J Balvin, Travis Scott, Gigi Hadid and Hailey Bieber, which compelled Tajer to make his collection coed.
Tajer plans to develop a full lifestyle offering, with the ambition of positioning Casablanca among the apex of French luxury brands. The designer was born in France, but his parents met working in a tailoring workshop in the Moroccan city that inspired the label's name.
AREA
Launched in 2014 by design duo Beckett Fogg and Piotrek Panszczyk, who met at Parsons School of Design, Area has made a name for itself with a sparkly, sometimes racy take on women's wear that combines the high gloss of a 1970s fashion magazine with a distinctly Millennial embrace of inclusivity.
"Our brand is all about glamour and really the polarizing idea of what that could be," Panszczyk told WWD in 2019. Celebrities who have embraced its eccentric, DIY-tinged aesthetic are as diverse as Michelle Obama, Katy Perry and Ariana Grande.
Last January, the New York-based brand made its first couture collection, employing almost 500,000 Swarosvki crystals on designs inspired by ancient civilizations.