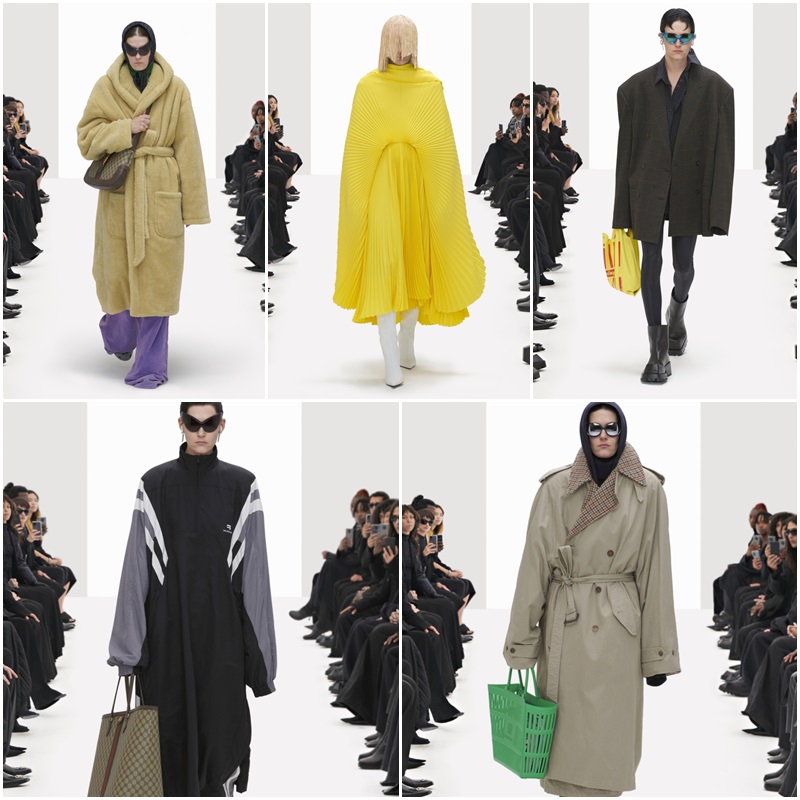 The Hacking Project between Gucci and Balenciaga rolls on, with Balenciaga's Demna Gvasalia swapping G for B in the Florentine house's iconic diamond monogram and adding a Magritte-esque touch by gleefully vandalizing one weekender with the tag;This Is Not a Gucci Bag !
According to Gvasalia, the clones are a critique on fashion's obsession with trends and hero items, which diminishes individuality, while the hacks on Gucci were a giddy, Kering-approved commentary on counterfeiting and the don't ask, don't tell practice of appropriation so widespread in fashion.
Oversized silhouettes, puffers, hoodies, trenchcoats, floral dresses and tracksuits this time all buffed up to relay a modern type of elegance exemplified by his sexy bustier and trousers, done up in sweatshirt material, and hulking down jackets with jutting, face-framing collars. The supersized fashions had a commanding presence, hovering somewhere between chic glamor and punk rebellion.
The show opened with what resembled mourning garb and gradually cheered itself up with candy-colored Crocs, a sweatshirt featuring the Simpsons wearing last season's Balenciaga, clutch bags resembling fast-food packaging, and a fishtail finale gown that's a ringer for the one Divine wore in Pink Flamingosin 1972, though done up in stretch velvet.
Balenciaga is banking on a live show at its restored Avenue George V salons during couture week in Paris, marking Gvasalia's first stab at high fashion and the brand's comeback to couture after a 53-year absence.