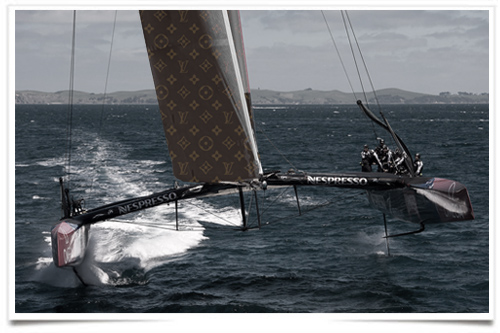 Louis Vuitton is strengthening its partnership with one of the oldest and most prestigious international sailing competitions the America's Cup. Louis Vuitton has been one of the main sponsor for more than 30 years (since 1983).
"For this 35th edition, the French Maison is renewing its commitment to the America's Cup by becoming the title partner of the America's Cup World Series, the America's Cup Qualifiers and Challenger Playoffs, as well as the presenting partner of the America's Cup Match," the house said in a statement.
In other words, the brand is going one step further in its support by extending its commitment to the entire event, which will be held in Bermuda in June 2017.
Louis Vuitton will be present throughout competition, including at preparatory regattas, to be held in Portsmouth, England from July 23-26 (Louis Vuitton America's Cup World series), as well as at successive competitive rounds: Louis Vuitton America's Cup qualifiers and Louis Vuitton America's Cup Challenger Playoffs.
Besides current champions Oracle Team USA, five additional teams participating: Emirates Team New Zealand, Artemis Racing (Sweden), Ben Ainslie Racing (Great Britain), SoftBank Team Japan (Japan) and Team France.