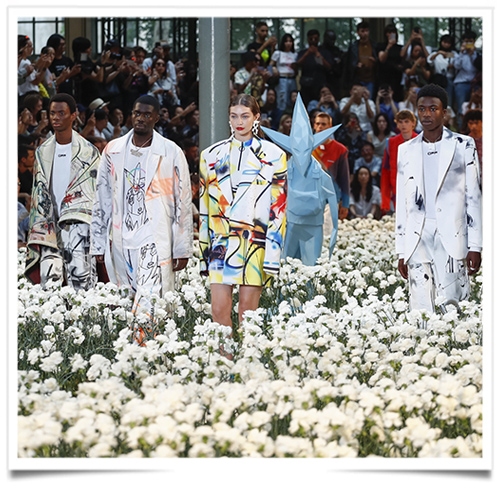 Off-White opened the second day of Paris Fashion Week with a controversial show. The subject of the debate wasn't the clothes but the end of the presentation. Rewind.
The set was a huge stage mounted inside the Carreau du Temple made of plywood: people were sitting all around a big flower bed with musk and white carnations.
But the finale shook up the entire audience. The models came out in groups stomping on the flowers and devastating the bucolic atmosphere. We could naively interpret this as bad boys that violate the "keep off the grass" sign. But as Abloh is a master of communication and the show was entitled "Plastic," we should read this act as a sustainable message to the world showing how men are destroying the beauty of nature.
But what if we'd push the interpretation a bit further and read this as a revenge on fashion's white supremacy .