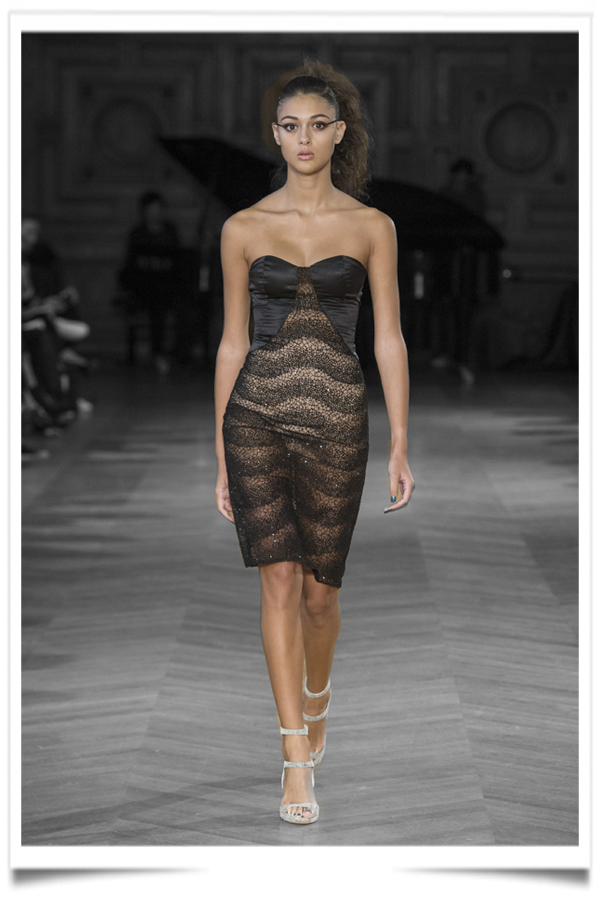 The 38th Parisian collection of ready to wear created by Fatima Lopes get its inspiration by the amazing and magical aesthetic of Birds.
Enchanted by the harmony and the elegance of the colours association, often unexpected but always graceful, the designer created aerial and colourful silhouettes which combine lightness and nobility because of the choice of the fabrics, and strong architecture of the pattern which remind the steep lines of bird's beaks.
The colours embrace each other in an explosion of bright and fruity colours such as raspberry, grapefruit, emerald green, red and so on.
Important is as well the utilisation of more neutral ones as nude and black, bringing balance to the palette through them pureness.
Among Beach and Cocktails, the superposition of silk's chiffon layers plays with the transparencies and engage the clothing into a game a see through which show only lightly the body shapes.
50's culottes and graphic jumpsuit snick under the ethereal dress and brings in this way a sporty and an unusual modern attitude to the outfits.
Glamorous long dresses, contemporary jumpsuits, sensual dresses and elegant shoes bring to life the spring summer collection of 2018, unexpected and summery which evokes the birds of Heaven tremendously free and "extra-ordinary"