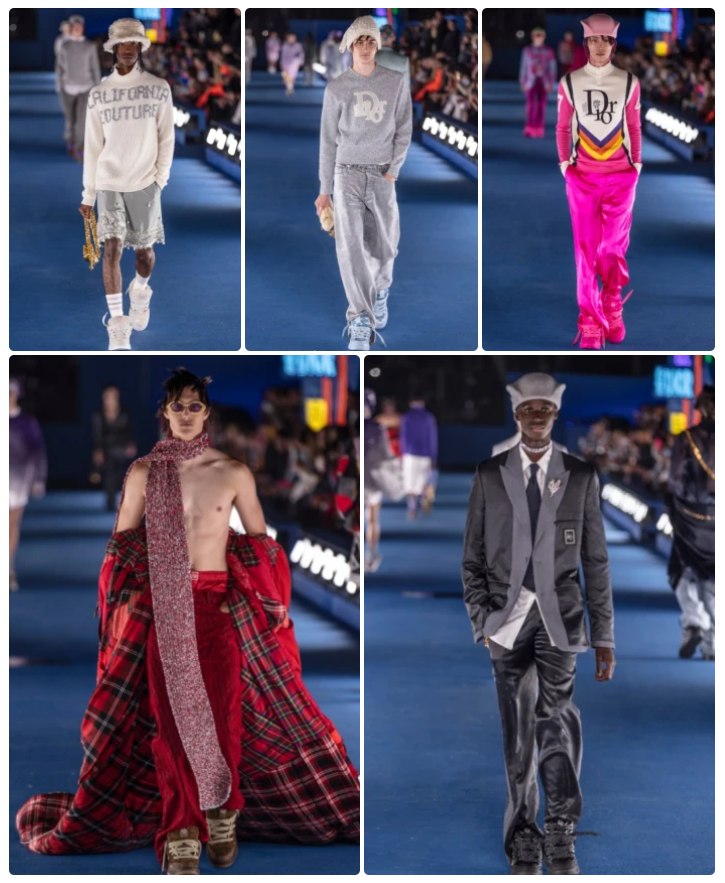 Thursday night, here is the diction of a remarkable fashion of Dior, Kim and the other. The house had closed two L.A. avenues, even adding its own letters "ERL Dior" to the historic "Venice" on the neighborhood sign. A collection presented on an ocean blue runway with two waves with foam crest, as elements of decor, symbolizing the new wave that is currently tearing fashion and its slow mutation, the dark luminosity for one and the soft clarity for the other.

California and couture; a dichotomous mix that makes it apparent that the Master of Granville "Christian Dior himself" spent several stays on the West Coast.  The influence that America had on the growth of his company, but also to the rise of the region in the landscape of today, by the copies of Kardachiantes and other counterfeit humans that make T-shirts look like Fashion.
The way people dress in California has a huge influence on the way people dress around the world, no doubt about it. But Venice's history is more than symbolic and dates back to the early 20th century. Founded in 1905 by Abbot Kinney, it was a seaside resort that attracted early Hollywood celebrities, including Carole Lombard and Cary Grant, as well as filmmakers like Orson Welles, who used it as a stand-in for a Mexican border town for one of his films. Venice is also at the heart of L.A.'s architectural and art history, where Charles and Ray Eames, Frank Gehry, Larry Bell, John Baldessari, Ed Ruscha and many others had studios even before Linnetz was born.
So the pieces in the collection are the soul of that history, with one of the most dazzling pieces being a pair of satin basketball shorts with luxurious embroidery of crystal waves and shells. Another Dior version sweater, in embroidered mohair, and a Dior Saddle bag adorned with tinsel and cast gold metal, with a skater-boy chain handle, and sunglasses that are named after Linnetz's dog, Lucky.
The colors may seem bright compared to Kim's design, which has much more restraint, control and focus, while the other designer, whom the philistines don't know at all, is more chaotic, "but there is also perfection sometimes in chaos," said Salvador Dali.
F