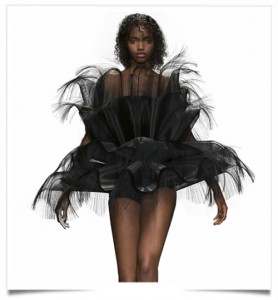 David Laport is one of the most promising designers in Holland, and a wizard with materials.
Laport graduated two years ago at the Royal Academy of Art in the Hague. He impressed with a colorful set of plissé skirts that were blown straight up into the air, really technical tour de force pieces.
In his second collection, Laport surprised with a special developed fabric, a punky black mesh with small square holes, his modern take on lace. But what's a David Laporte collection without entertaining show effects?
So there was a black, very short voluminous dress with feathers – which were not feathers – but unravelled nylon mesh. It looked ultralight and playful.