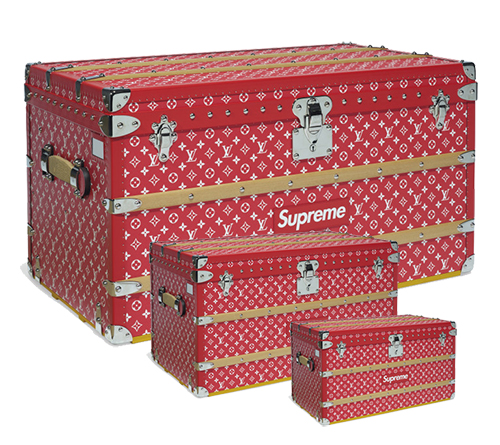 Christie's brought in more than $2.1 million in its Handbags online auction, thanks in part to an Hermès matte white Himalaya Niloticus Crocodile Birkin 30 and a Louis Vuitton x Supreme Monogram Malle Courrier 90 Trunk, which both doubled their low estimates and sold at $125,000 each.
While an overall total of 89 percent of the pieces were sold during the auction, Supreme merchandise exceeded that number, selling 95 percent of its pieces including an Everlast Boxing Group that sold for $17,500, Stern Pinball Machine for $32,500.
This auction successfully captured luxury as it is defined today, the sale further cements skateboards, handbags and consumer products as collectible assets comparable to art pieces.
This summer, Sotheby's held a similar auction with Stadium Goods to sell 100 rare sneakers, which were acquired privately by entrepreneur and collector Miles Nadal. The Nike Moon Shoes from the 1972 Olympic Trials sold for $437,000, which set a Guinness Book World Record for the most expensive shoes sold in the world.