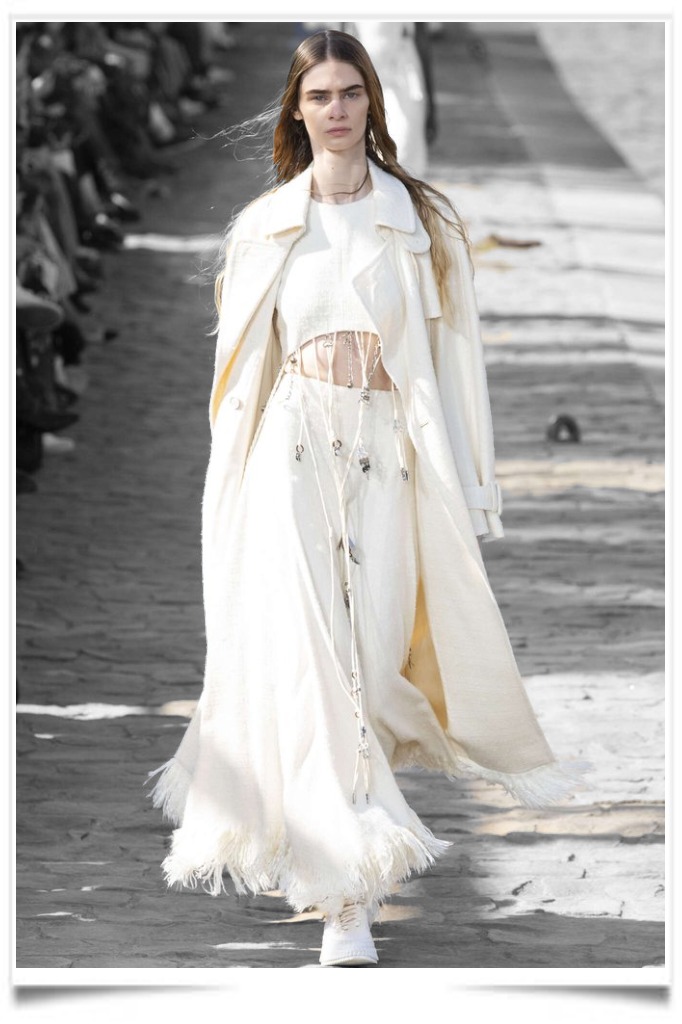 The Chloé fashion show, carried out by its new artistic director, Gabriela Hearst was held on the banks of the Seine at the Port de la Tournelle, next the restaurant the "Cheval Blanc" owned by the Lord of Arnault. Walking down the quay of the Pont de la Cité, the clouds chased by the breeze and cleaned from the rats by the city, for the circumstance, we waited quietly as "baliste" ready to shoot. I see a small swallow twirling back into town, then the noise calms down around us. On the Seine, hardly a wave, and the show begins for Gabriela who is not Mistral, not more Neruda, the educated will understand.
Long and ample silhouettes, dresses in raw silk of cream color, fringed like the Indian "komants" or Comanches, which means "those who always fight". So the devil is in the details, like these hand-painted glazed ceramic buttons or these laces-fringes, recovered from sneakers, decorated with stones and metal parts, a way to tell us that here we recycle and we take care of the planet. We always recognize the degree of a civilization at the way it does not pollute its environment
Patchworks, reminiscent of the bags of Jean Marlaix, creator of La Bagagerie, as well as tunics and ponchos from his native country, Uruguay. Dresses in multicolored macramé very exotic and not really erotic, very fresh, very sober, but also very successful, we must admit. The time and the place did the rest. Dresses and clothes, for these young people who do not fuck, do not drink, and do not smoke either anymore. This explains the so wise side of this presentation. I met a journalist from 30 million friends in the front row, probably to talk about the elephantine bimbos of Paris Fashion Week. As for Gabriela, she will take her not-yet-electric private jet back to get inspired elsewhere, but won't give up "the prey for London".
Anonymode