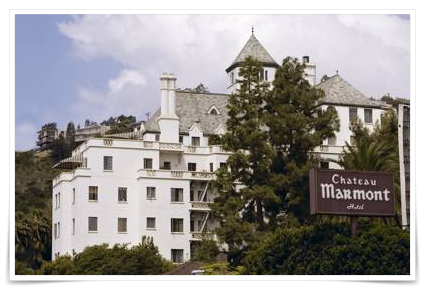 There isn't a hotel as closely identified with Hollywood as the Chateau Marmont, which is probably why people have been talking a lot about its future amid the economic fallout caused by the coronavirus.
Rumors abound lately that the 90-year-old hotel and restaurant, still a favorite haunt of celebrities and industry types the world over, has been so pummeled by the coronavirus that it won't be able to reopen, and its owner, Andre Balazs, might be forced to sell.
The hotel laid off nearly its entire staff (242 people) the same day California and Los Angeles went into lockdown and closed all nonessential business.
Employees received no severance and the layoffs are listed as "permanent" in a required disclosure filed with the state.
But, the Chateau's quick move to layoff staff without pay is thought to have saved the company a considerable amount of money, leaving it able to wait out the pandemic for a time, and eventually to start moving toward a fuller reopening as the state looks to ease restrictions in the coming weeks.
Technically, the Chateau is not entirely closed as of now. There are still said to be a couple of "long-term" residents living in the hotel, and a very limited amount of staff has been kept on to serve them while abiding by social distancing guidelines.
The hotel has also, for the first time, put its gift shop online, with sales going directly into the fund. In total, the efforts are said to have raised about $300,000 for the employee fund.