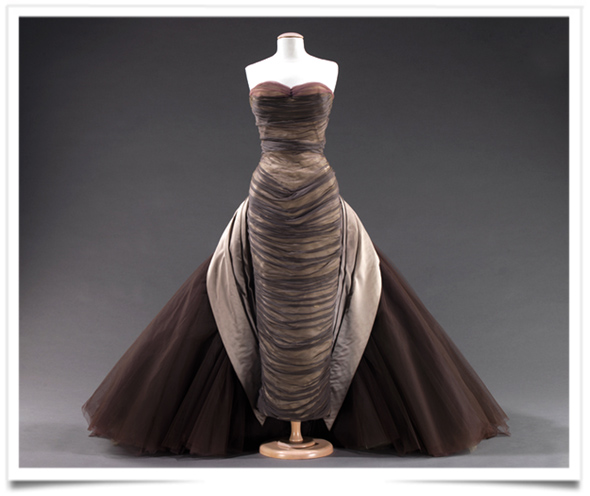 Charles James (American, born in England, 1906–1978). "Butterfly" Dress, 1955. Smoke gray silk chiffon; pale gray silk satin; aubergine, lavender, and oyster white tulle. Brooklyn Museum Costume Collection at The Metropolitan Museum of Art, Gift of the Brooklyn Museum, 2009, Gift of Mrs. John de Menil, 1957 (2009.300.816) .
This design invites multiple interpretations. The form alludes to the extreme bustles of the 1880s and at the same time can be imagined as a transformation of the female body into that of a butterfly with iridescent wings that shimmer when they move. References to the past aside, it was a form hitherto unknown in the history of fashion. Twenty-five yards of tulle were used in its making.
His father was a British officer and his mother a Chicago "patrician". In 1919, he attended Harrow School, where he met Evelyn Waugh, Francis Rose, and, most importantly, Cecil Beaton, with whom he formed a longstanding friendship. He was expelled from Harrow for a "sexual escapade".
At the age of nineteen in 1926, Charles James opens his first hat shop in Chicago, using the name of a schoolfriend, "Charles Boucheron". In 1928, he left Chicago for Long Island with 70 cents, a Pierce Arrow, and a number of hats as his only possessions. He later opened a hat shop above a garage in Murray Hill, Queens, New York, beginning his first dress designs.
In May 2014, James will be the subject of an exbition at the Metropolitan Museum of Art's Costume Institute called Charles James: Beyond Fashion. At a preview of the exhibit, Elettra Wiedemann modeled a replica of the Clover Leaf ballgown James originally created for Austine Hearst. At the preview event, the Costume Institute "detailed the designer's significance today and showed a 1969 video of a James-led retrospective fashion show."