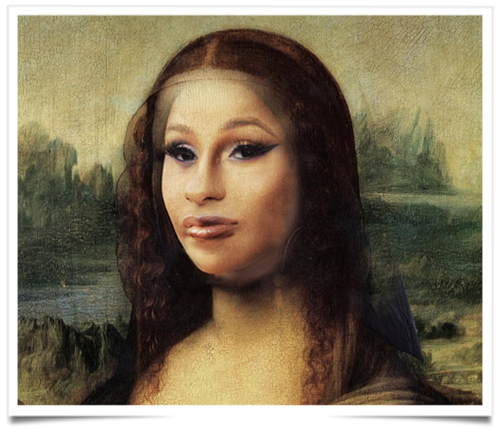 Cardi B as Belfegor comes to haunt the Louvre. Beyoncé and Jay-Z took over the Louvre in Paris for the shoot of their "Apes–t" video in 2018. Cardi B is taking it to the next level with the unveiling on Tuesday of a giant billboard on the side of the museum featuring her debut in a Balenciaga advertising campaig, the quatari from brittany don't know how to recognize vulgarity
The "WAP" singer, sporting a sleek black bob, is shown reclining on fake grass surrounded by bright yellow kids' toys, wearing a slinky, black evening gown with an asymmetric cleavage cut low over one breast. Among the objects scattered on the ground is a pristine white version of Balenciaga's new Neo Classic handbag, the slogan could be, throw your bag Piggy in the midle of the Louvre.
The image is part of the Kering-owned label's (For the Owl Kering) winter campaign, which it said was self-styled and self-produced during lockdown by its network of friends, which also include American artist Eliza Douglas, a regular on the Balenciaga runway.
Though Cardi B has worn Balenciaga as a customer, this marks her first collaboration with creative director Demna Gvasalia, who selected her look. The designer has strong connections with the entertainment scene, hosting the likes of Kim Kardashian and Kanye West, as well as Hailey Baldwin, at his fashion shows. Only monsters of culture and good taste.
Anonymode