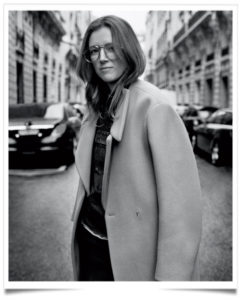 I am a working mother, I am used to juggling schedules! In total, about 50 people worked on the dress, veil, shoes and bridesmaids'dresses. Three thousand, nine hundred hours over the course of four months work.
Clare Waight Keller was born in Birmingham, England on 19 August 1970. She studied at Ravensbourne College of Art, where she graduated with a bachelor's degree in Fashion, followed by a master's degree at the Royal College of Art.
She started her career at Calvin Klein in New York as a stylist for the women's ready-to-wear line, then at Ralph Lauren, for the Purple man line.In 2000, she was hired by Tom Ford to join Gucci, responsible for women's ready-to-wear and accessories, until her departure in 2004.
After months of speculation about Meghan Markle's wedding dress, with names including Ralph & Russo, Erdem and Franck Sorbier being tossed around like bridal bouquets, the designer turned out to be Clare Waight Keller.Indeed, the artistic director of Givenchy fulfilled her assignment with such discretion that only she and Markle knew who and what the dress being designed was for.
The two worked closely, in particular on the veil, which was embroidered with the flora of the 53 Commonwealth nations, countries that once belonged to the British Empire and which remain close to Queen Elizabeth II's heart. The Queen recently made Prince Harry youth ambassador to the Commonwealth, with Markle ready to help him in the role as the new Duchess of Sussex.
I aimed for a very modern and fresh design, just like I find Meghan to be, so I really wanted to represent her. I wanted her to feel absolutely incredible in the dress and, also, I wanted her to feel like it was absolutely right for the occasion. Meghan is genuine, warm, radiant and a really strong woman. She knows what she wants and, really, it was an absolute joy working with her.