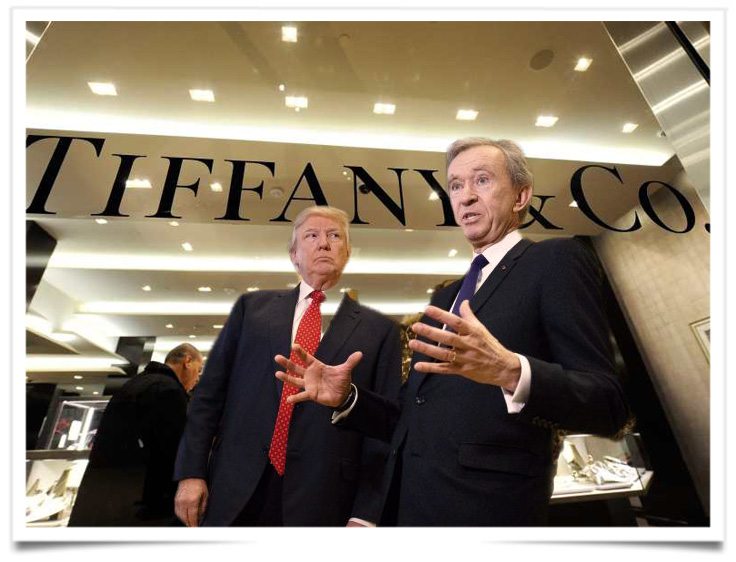 The Lord of luxury is looking at acquiring the famous American jeweller "Tiffany", known for its engagement rings and diamonds, but also its precious stones. The house, which has the world on the horizon, and many paths that remain to be explored through the shadows of luxury, to the edge of the night, but above all, until the stars are finally all lit by all the diamonds of the earth, continues its colonisation.
Breakfast at Melanie , and a few days earlier, we were wondering how the Lord could bear the company of this uncultivated Donald Trump! He says of François Pinault that the only diploma he has to his credit is his driving licence, so we can imagine what he has to say about Trump Avenue Montaign.
Meet Donald and why not Mickey while you're at it! It's a torture for the master of luxury, but why not a "Breakfast at Tiffany's". There had to be a good reason for the Lord to support Donald's mycosed intelligence. Today, we are right, the prince wants to take over the jeweller Tiffany, whose flagship is next to the Trump Tower on 5th Avenue.
Tiffany was capitalizing nearly $11.90 billion at the Wall Street closing on Friday. A takeover by LVMH would be one of the French group's biggest acquisitions. The acquisition of Tiffany would strengthen LVMH's presence in jewellery and will face Cartier and Van Cleef & Arpels, the main competitor of the Swiss Richemont group.
Founded in 1837 by Charles Lewis Tiffany, the New York jeweller opened his first boutique in southern Manhattan the group, which went public in May 1987, was bought for $104 million in 1979 by the cosmetics company Avon Products.
Disappointed not being able to capitalize enough on Tiffany's reputation, popularized by the novel "Breakfast at Tiffany's" by American writer Truman Capote, Avon sold the company five years later for $135 million to a consortium of investors led by William Chaney.
Ivanka Trump will probably be the next CEO of Tiffany once acquired by LVMH. That may explain why Trump and Arnault get on very so well together.
Anonymous