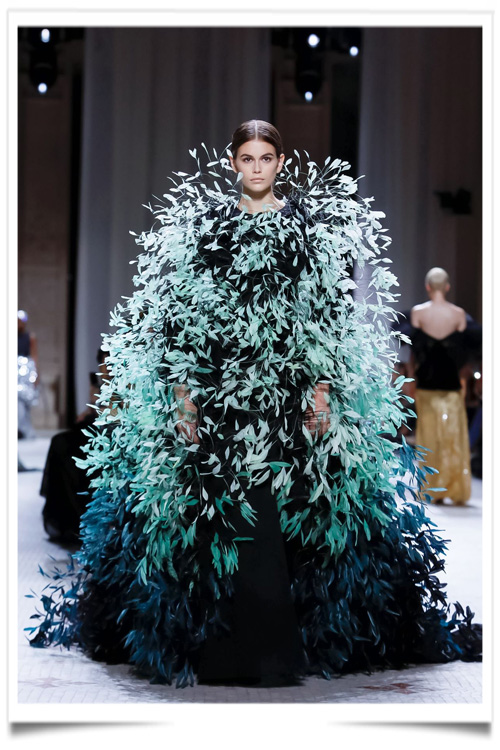 With the Givenchy collection she showed on Tuesday night, Clare Waight Keller indicated a shift from the more clearly clinical perspective from which she created her first three couture collections for Givenchy, creating some quite beautiful clothes along the way, to that of a storyteller who now also buys into the wonderment of couture. Backstage post-show, she didn't lead with the importance of precision cuts or modernist restraint. Rather, she dubbed the collection Noblesse Radicale.
"I wanted to kind of step it up a notch for myself," she said. "I wanted to push it into something that has a little more theater."
Waight Keller went back and forth between the smart elegant tailoring that she's made a priority at Givenchy to beautifully crafted gowns, some constructed to nth degree, some more deliberately haphazard, their voluminous sleeves or skirts festoons of fabric taken from those imaginary curtains and secured by drawstrings.
In her most radicale moments, Waight Keller imagined "the sort of bird-like creatures, which always inhabit the roofs of these places." Hence, the extravagance of feathers descending from beneath the hem of a black mourning gown, heightening the artistry of a dress cut away over a crinoline, and worked into audacious avian headdresses, looks that paid distinct homage to one of couture's all-time great romantic masters, Alexander McQueen.