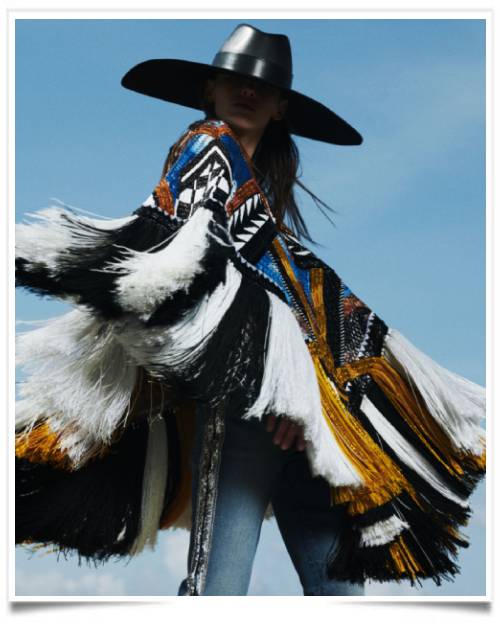 Balmain collaborates with Netflix for a film "The Harder They Fall", a foreshadowing of a fall. It is on the occasion of the film by Jeymes Samuel, produced by Shawn Carter (who is none other than Jay Z) that this film features the story of an Afro-American slave who became one of the most legendary cowboys of the Wild West. A universe, which fascinates the young designer, the Wonder Boy having confused with the Wonder Cowboy: "I spent a large part of my childhood watching American Westerns," explains Olivier Rousteing, which gives him, indeed, a very thorough knowledge of the history of America and its boys Vachers, a "Broke Back Mondain" in black, for a "feature film" that will certainly have attracted the designer.
When he was told that it is thanks to Lafayette that Americans are Americans, he would have said "the Brexit already existed at the time of Galeries Lafayette?" This is not invented! The creator, as he likes to call himself taking himself for God, then imagines pieces of ready-to-wear "Andro Jeans" having heard a new word, these with bangs, suede, neutral colors and Tutti Frutti, resuming the costumes of the famous Cowbow "The hindquarters whistle three times" or "Lend me your hand cowboy".
He says he combines the codes of luxury with the spirit of adventure to create the most fashionable collection of the year, forgetting in passing that Karl had already made a cruise collection in Texas of this type, for the rich Texan women so distinguished.
By the way, he has never set foot in the United States, only in luxury hotels in L.A. and West Hollywood (WeHo), as well as in the Kardashian boutique, of course, so as usual his knowledge of this country and its history is limitless.
Anonymode