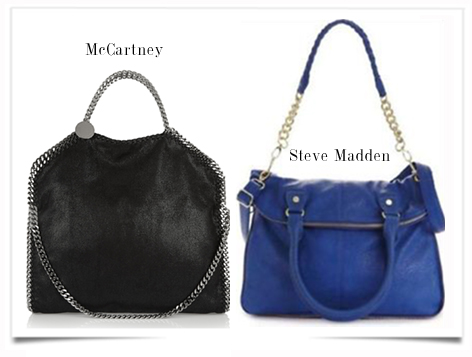 UK fashion designer Stella McCartney sued American footwear and accessories company Steve Madden for copying her Falabella bag. McCartney filed a complaint with the Southern district of New York against Steve Madden. McCartney said that Steve Madden has copied one of her most "well-known and enormously popular" handbag styles. McCartney's lawyers want Madden to discontinue its knock-off "BTotally" handbag and "an accounting of Defendant's profits."
McCartney's bag retails for $1,195, Madden's for $108. Court documents pointed to "several poor reviews of the BTotally bag from Steve Madden's website" as proof that the bag is likely to damage McCartney's reputation and lead to a loss in sales. Mrs McCartney have you never thought that if you do not sell your bag, it is maybe because it is too expensive. It is one of the 4 compenents of the mixed marketing. 
Look at the photos here above and please judge by yourself !! Probably, after that McCartney will file a compliant againts Chanel for the Chaines bag !!!