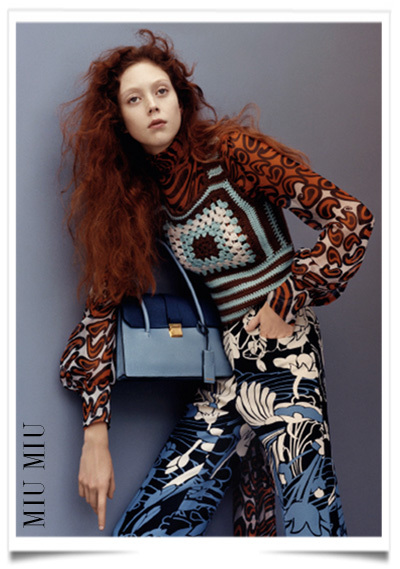 Polyester was the material of choice and bright colors were everywhere. Men and women alike were wearing very tight fitting pants and platform shoes. By 1973, most women were wearing high cut boots and low cut pants.
Early 1970s fashion was a fun era. It culminated some of the best elements of the 60s and perfected and/or exaggerated them. Some of the best clothing produced in the 1970s perfectly blended the mods with the hippies.
Every woman had a cowl neck sweater in her closet and every man had a few striped v-neck velour shirts. Tunics, culottes and robes were also very popular. Sometimes it's hard to tell which dresses were meant to be worn at home, and which ones were for a night on the town.
There is one common theme throughout fashion in the 1970s: pants were tight fitting. And it is probably the first full decade in which women could be seen wearing pants in every walk of life.
This is today Mui Mui's style, isn't it ?