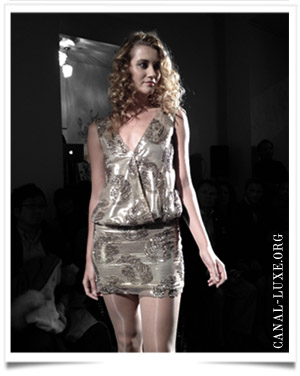 For her first show in Paris, the designer chose the private world of his own office, rue de la Banque in Paris, revisiting the tradition of Jeanne Paquin or Madeleine Vionnet, who used to present their collections in their own space with very happy few guests.
Today, we would talk about "trunk show". For the public, to be closed not only to the creations but also to the designer, who personally comes to shake hands to all the guests, makes it very intimate. It underlines this intrinsic link between the creation and the act of creation.
Pleated and draped mixed with satin and lace highlights the silhouette of the woman recalling the Hollywood style . "Fashion is what we accept to show from ourselves" announces the program. We found with this collection the idea of a woman who becomes everyday extra-ordinary by the dress she wears and who will shape her identity.