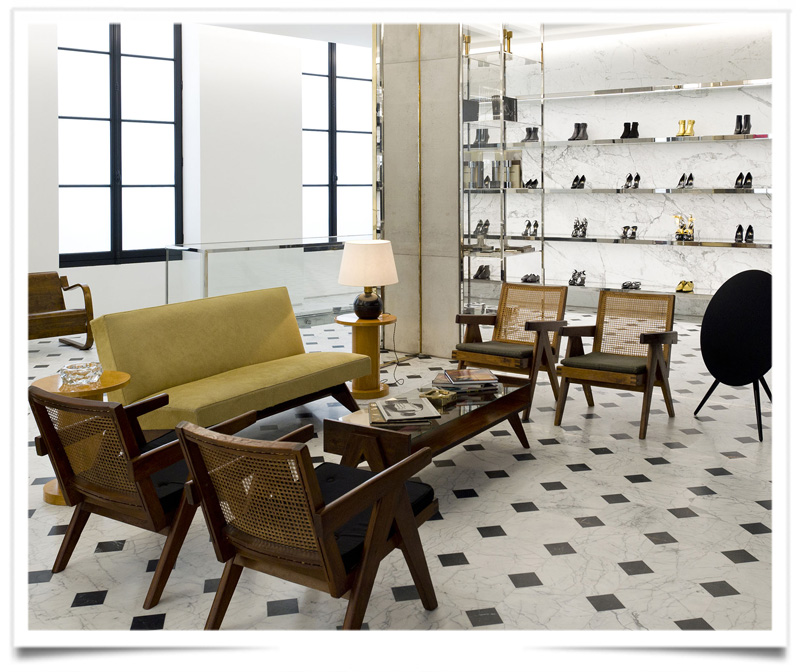 Colette the space that housed the Paris concept store for 20 years will reopen on Saturday as Saint Laurent Rive Droite, a new retail format developed by creative director Anthony Vaccarello that will sell everything from Jean Prouvé chairs to Saint Laurent-branded condoms.
The new boutique and its sister unit on Rodeo Drive in Los Angeles, opening the same day, represent a departure for Saint Laurent, known for its minimal stores featuring acres of veiny marble and gleaming shelves.
In addition to offering a wide range of products including limited-edition collaborations and rare books and vinyl alongside women's and men's ready-to-wear and accessories, the Paris space will also house a takeaway coffee counter and a club that can be turned into an event space.
The ground floor is chockablock with novelty branded items including gold skateboards, yoga mats, water bottles, earphones, Frisbees, phone cases, lighters, stationery, matchboxes, cocktail sticks and USB keys there will even be biscuits featuring founder Yves Saint Laurent's drawings.
With its shimmering textured black walls, the pocket nightclub is guaranteed to become one of the most exclusive venues in town, with a capacity of just a few dozen.
The name of the store is a play on Saint Laurent Rive Gauche, the retail concept and collection that Saint Laurent launched in 1966, becoming the first couturier to open a ready-to-wear boutique. Though Vaccarello lives and works on the Left Bank, he sees more diversity on the other side of the river.
Saint Laurent plans to launch its own publishing imprint, and is working with rare book dealer Antoine de Beaupré on the selection of vintage books on sale at the store.
Self Service magazine has produced a special black leather-bound edition of its 25th anniversary issue, featuring only Saint Laurent ads, for sale exclusively at the store, alongside badges, stickers and other commemorative items.