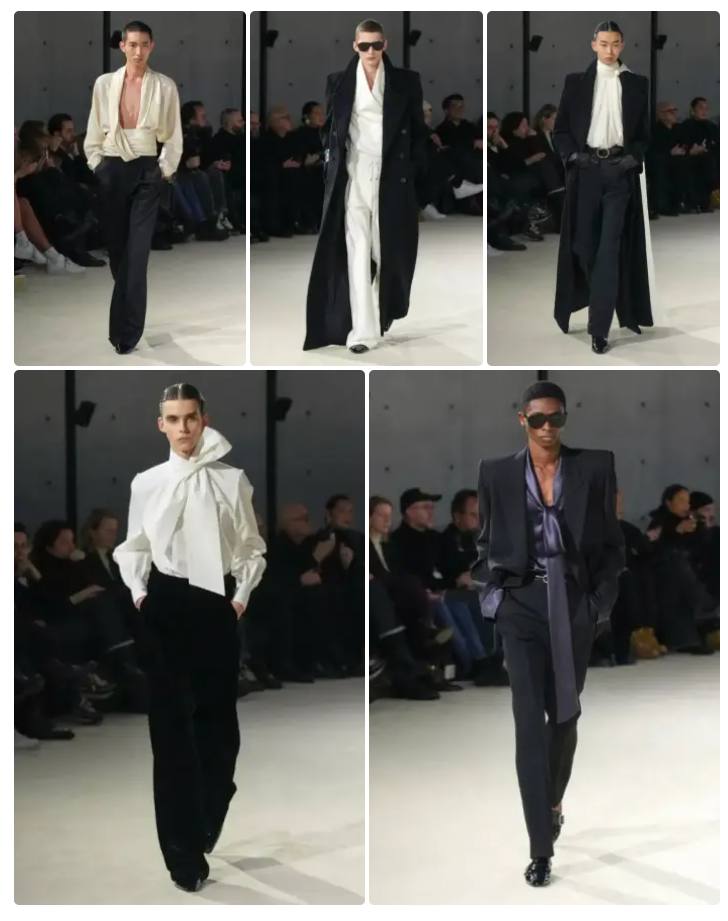 In the soft gloom of the new flagship of the Kering Group, the spotlights reflected in the azure eyes of the models, and like a kiss that makes us shiver, Vaccarello, the magician, makes our souls shiver in a gesture so neutral that we are all surprised. A grand piano, in the middle of the large round room, installed there for the actress Charlotte Gainsbourg who plays on the keys of melancholy.
A room stunned to see men in silk shirts as a throwback to Yves Saint-Laurent who, in 1967, promised women the tuxedo for men. Vaccarello promises femininity to men! This day is to be marked with a stone where the accessory stores, the scattered pieces of this allegorical puzzle become the new Parnassus: Apollo, Pegasus, the Hippocrene, all notorious exceptions for a romanticism on the Muse to the singular male.
Sort of electro-sexual sewing machine, a fashion on museum taken out straight from a complex machinery, to make circulate there by a funnel the thread of a dark blood through the back of a truncated male nude. The complex existence of a castration to come with all its components or the violently fetishist origin of the spider woman.
In the real battle of the image, to which the seam had still all its share, the hope of the creator is registered, in the last thread in the vision of a ground which reddens black desire. He praises the image to magnify the grace of a light taking its source in the interior life, and in the heart of the room.
The narrow bust and the breasts crushed by their masculinity underline sleeves that seem to extend in an inexhaustible pan of fabric to the lower edge of her toes like a feminine dress. Vaccarello, with a well-arranged solitude, comes to greet the pianist with a touch on the shoulder as if to offer her a beautiful living space.
FM