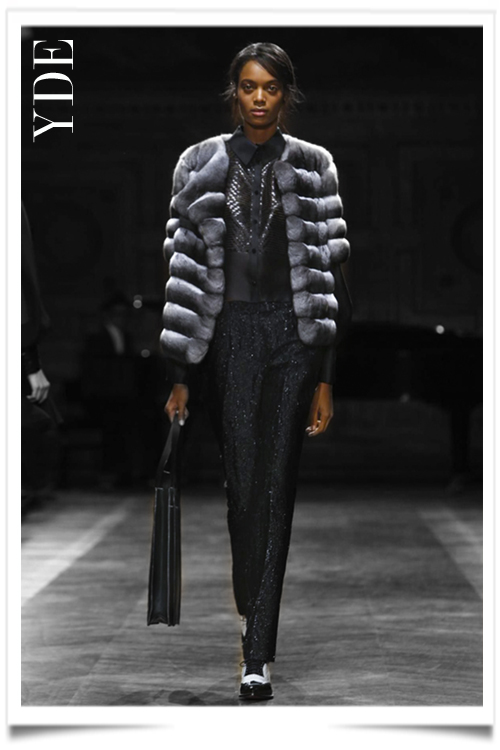 Ole Yde's collection expresses the rigor and the control of the environment of the people living in the north of Europe. The collection is built around an axis as a building and the axis on which it turns is called luxury and glamor. The master pieces of the collection are a chinchilla jacket, black pants inlaid diamond sequins, New Yorker "pimp" black shoes of the 1920's and embroidered silk blouse and a blue long dress Crew Neck and a black belt marking the waist and thus break the vertical and smooth line all giving a surprising elegance effect.
Ole Yde did not depart from the spirit of this fashion week: leather and mink were honored and so marked the return of a profession that disappears little by little. We speak furriers that no longer seem to be bothered by environmentalists that once on the catwalk or in the streets of New York were indelible paint in red coats mink they met in the streets.
YDE is a luxury women's Prêt-à-Porter brand based in Copenhagen. The poetic and feminine style of the collection is conceptualized and created by acclaimed Danish designer Ole Yde, born and raised in Odense, Denmark. At the age of eighteen he moved to Copenhagen to attend Denmark's design school. In 2002 Ole left school short of graduating to pursue his dream of starting his own label. He began his career by creating one of a kind dresses for private customers, which he still continues to do now. YDE was launchedin 2005 for which Ole subsequently won ILLUM's design prize. In 2010 Ole Yde won both the Silver Thread award for new talent of the year and the GINEN award for designer of the year. The brand is recognized both for its sophisticated day pieces and its glamorous occasion wear designs; it is geared towards a modern woman with a sense of elegance. YDE is known for its original and delicate mix of modern Nordic design and opulent materials, handpicked from workshops with a long luxury heritage. YDE's Prêt-à-Porter collection is presented twice yearly during both Copenhagen and Paris fashion weeks.