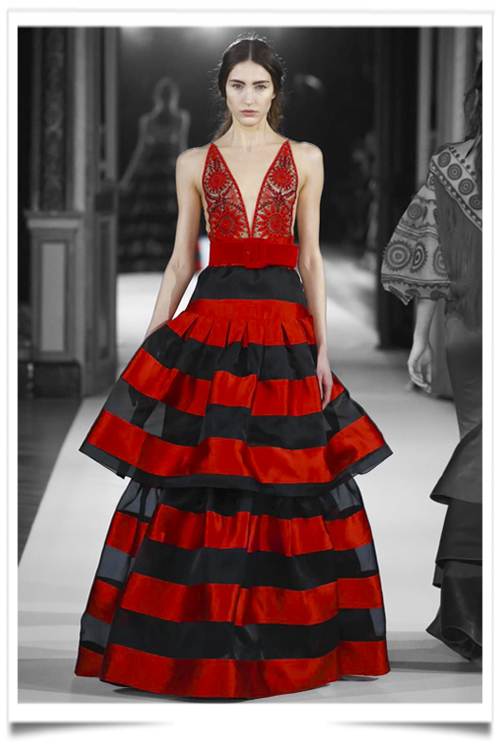 Haute couture in Paris has just started and we are excited to see what it is new, creative and original this year. Today I attended the Haute Couture show of Yanina Couture. Julia Yanina is a russian fashion designer. She has made an original approach by mixing two very different cultures together, russian and spanish. A combination which is very delicate to accomplish and not so evident.
In this collection she tried to achieve the creation of a love story between a russian ballerina and a spanish matador which was quite obvious on the use and combination of colors, patterns and embroided laces. The pieces varied from nude, to pastel colours and to end up with the strong matador red.
The black laces very elegantly embroided and carefuly transformed sometimes into images of ballerinas dancing, on a nude transparent texture it is not something new in her designs but this time, the same idea was applied with motives of the matador embroidery and the flamboyant symbols which made the transition and the fusion of the romantic ballerina to the dramatic matador.
The fusion was achieved in different levels starting first with the russian ballerina motives, making the transition to matador lines on the light nude texture, going to ballerina lines on flamboyant textures and ending up with a purely matador motives leaving a last taste of the show "dressed to kill (or be killed)" combining a trajes de
luces (suits of light) on a couture dress.
The last part of the show weren't the most achieved pieces even though you could feel the research behind. Although we appreciate the courage of intertwining such a romantic and dramatic concept and bringing two different traditions together.