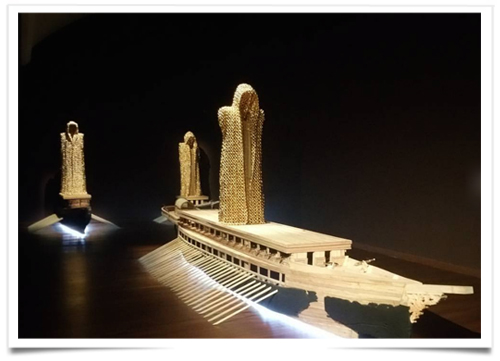 Born in Bandung, West Java, in 1968, Titarubi began producing art while studying ceramics at the Department of Fine Arts at the Bandung Institute of Technology (ITB) in 1988.
She is known for her work across multiple media, such as sculpture, installations, performance art, happening art, painting and graphic design and for exploring the human body, identity, gender, memory and colonialism.
Titarubi has collaborated with musicians, theater artists, dancers and filmmakers, and many of her works is presented at events in Asia and Europe, such as the Singapore Biennale, the ZKM Center for Art and Media in Germany, the Museum and Art Gallery of the Northern Territory of Australia, the Busan Biennale Sculpture Project in South Korea, the Museo d'€™Arte Contemporanea in Italy and the Singapore Art Museum.
Titarubi said that she had gone through changes as an artist throughout the last 25 years, making her more convinced that art is a way to share and process her thoughts on understanding life.
She is a founding member of the Indonesian Contemporary Art Network (iCAN) and Forum Rempah; the former is an organization promoting public education and multi-disciplinary work in art, the latter a forum focusing on the history of spice and its culture in the archipelago.
Her latest solo exhibition, '€œDiscourse of The Past'€, exploring Indonesia'€™s colonized past, will run at the Philo Art Space gallery in South Jakarta until Apr. 18.
Titarubi is married to a fellow artist, the renowned Agus Suwage, and says that they always found time and space for their teenage daughters Carkultera Wage Sae and Gendis Genclang Hatena Wage Sae.
Anonymode