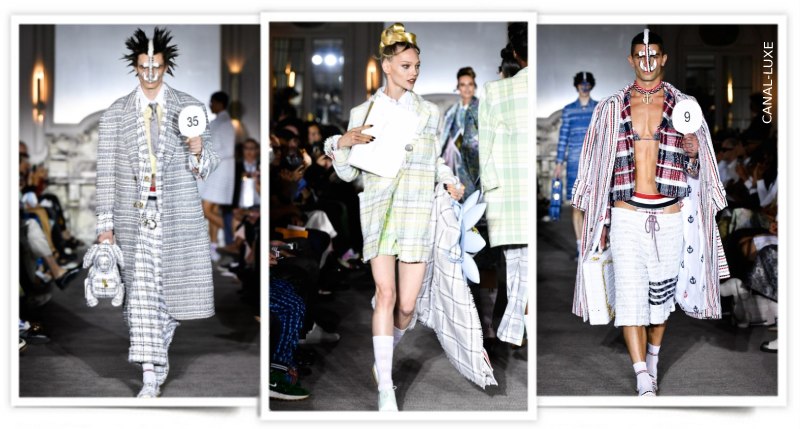 The collection Thom Browne showed at Hôtel de Crillon on Sunday night. Male models, some with spiky punk hairdos, strode down the catwalk in a lineup tweed ensembles. Probably it was an homage to Chanel but also to Browne's creativity: The fabrics were developed in France specifically for the brand, and many came edged in sequins or festooned with tiny white tufts, like bits of Peter Cottontail's nether regions.
It wasn't particularly Chanel, but more an homage to French couture shows. When I think of couture and France, I think of tweeds.
He is used to putting men in skirts. On Sunday night, his front row was filled with pleated, swingy styles dangling over knobby knees and bare (sometimes hairy) legs, but he certainly pushed it this time around.
Skirts were slung so low that the stretchy straps, and cups, were fully visible, as were lower abs and butt cracks. Instead of the usual finale, two men dressed as a bride and groom, wearing coordinating short capes, marched down Browne's aisle.
It was certainly a departure for the usually buttoned-up Browne, and may have looked silly to some. But with young Millennials and Gen Zers of all genders swapping clothes, and no longer bound by traditional labels, Browne may have just catapulted his aesthetic straight into the future.