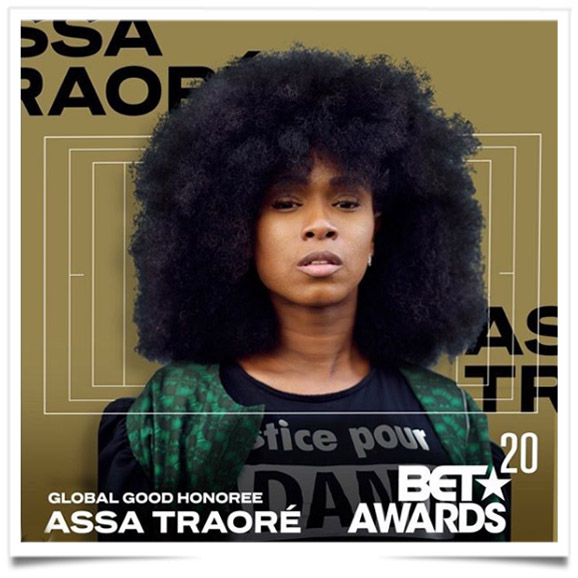 Bet Awards give an awards to Assa Traoré who has nothing to do with the Fashion world! It does not make sens.
I really hope, as other awards shows start to come back, we will see more Black designers represented not just when it's convenient," said L.A. designer Claude Kameni.
There wasn't an actual red carpet, but Sunday's virtual BET Awards was an impressive showcase of Black style nonetheless, starting with host Amanda Seales, representing all Black-designed clothing, jewelry, hair-care and makeup brands, including a custom gown by Los Angeles-based rising fashion star Claude Kameni. We wanted to tell a story of Black creativity, pay homage to iconic moments of Black style, and amplify the work of these Black fashion innovators; said Seales.
The BETs are our Oscars, our Grammys, our everything, where we are able to show ourselves and have fun and show off; said her stylist Bryon Javar of the 13 looks, using pieces from Pyer Moss, Romeo Hunte, Sergio Hudson, Sister Love, Brother Vellies, Grayscale, Bishme Cromartie, Dapper Dan-Gucci and more, and paying homage to iconic moments in Black style history, from Hilary Banks Nineties power wardrobe in "The Fresh Prince of Bel-Air" to Janet Jackson's fierce Rhythm Nation outfit. It made sense for this moment to celebrate Black everything Javar said. Continue reading →