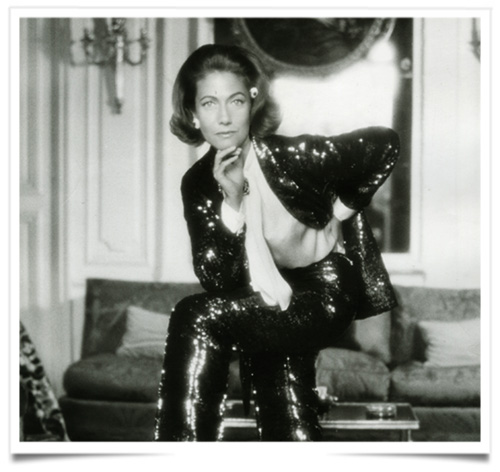 During 50 years, Hélène Rochas, nicknamed "the sophisticated panther" by the Amercian press, ran the fashion label and fragrances founded by her husband.
This Grande Dame embodied elegance to the French and was one of the iconic figures of fashion since 1940. Her Haute Couture clothes will be sold at an auction on May 12th, in Paris. With nearly 200 clothes including 80% of creation of Yves Saint Laurent, most of these Haute Couture clothes were the subject of publications and exhibitions, including at the Palais Galliera, the fashion museum of Paris.
The lots, estimated between 300 and 4,500 euros, will be presented to the public Friday, May 9 in the 8th arrondissement of Paris.
This collector, who will remain in legend alongside his friends Charles Beistegui, Yves Saint Laurent and Marie-Laure and Charles de Noailles, had the audacity to cultivate mixtures. She liked large cubist totem Gustave Miklos 1930 as well as a pair of Chinese vases of the eighteenth century. Hélène Rochas died in 2011, in its 84th year.
This "queen of fragrance" passionated by white flowers, created in 1960 its iconic juice, "Madame Rochas' which was an international success.
The Rochas brand now belongs to the American group Procter & Gamble, which has revived the ready-to-wear in 1990.
Anonymode