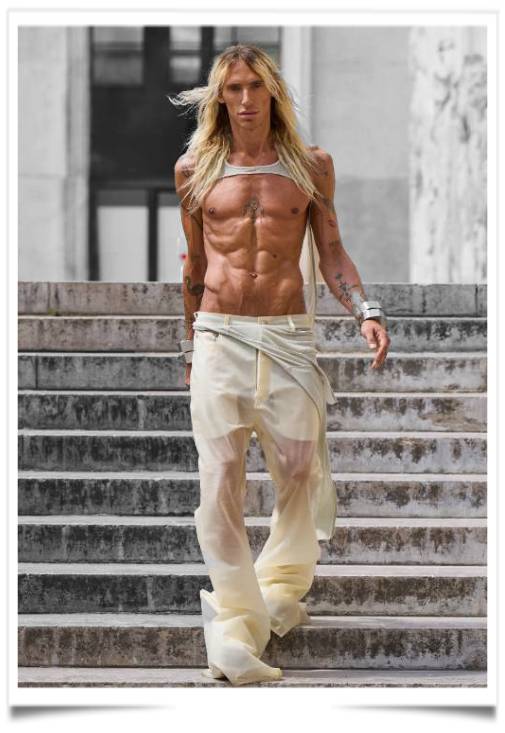 The end of the world is depicted in Apocalypse Now and End of Days by Rick Owens. Three orbs about two meters across were set on fire, and then slowly raised high above us, then dropped to a sizzling impact in the fountain of the Palais de Tokyo.
The great balls of fire represent suns, arcing across the sky, and crashing to the ground.
Owens had been in Egypt and named the collection Edfu, after the site of the Ptolemaic Temple of Horus. However the only literal souvenirs of that journey on the runway today were the three top-to-toe tulle looks near the end.
Owens tweaked his own codes today, introducing a flared-upper version of his killer platform boot. Another novelty was technical wear, delivered in the loose pants, shirts, and inverted jackets cut in gray ripstop nylon shot through with Dyneema, a fiber Owens said was "apparently one of the strongest in the world.

Owens purists might be reluctant to embrace his rare forays into punchy color, but the eruption of yellow, pink, green, and that purple here provided extra visual texture even beyond the steaming meteorites. The volumes, especially in the shoulder, were on the up again. For Rick Owens, this was just another judgment day.