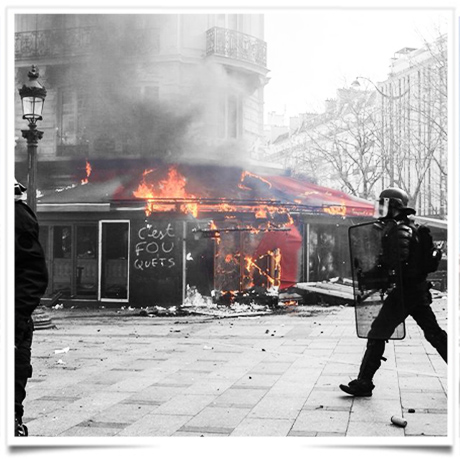 The gilets jaunes movement shows no sign of dying down. Protests took a particularly violent turn on the Avenue des Champs-Elysées, echoing the first acts of vandalism witnessed on Nov. 24.  Parts of Fouquet's, a high-end restaurant known for having hosted former French president Nicolas Sarkozy's election party, were set on fire.
Champs-Elysées stores including Longchamp, Zara, Swarovski and Hugo Boss were pillaged and damaged. Nearby cars and magazine kiosks were also set on fire.
"Like a huge majority of French people, today I feel a great anger wrote French prime minister Edouard Philippe on Twitter.The acts committed today weren't done by protesters, but by looters, incendiaries and criminals. No cause justifies this violence.
Barricades closed off the Faubourg Saint-Honoré area on Saturday morning, with most luxury stores choosing to keep their doors shut. Eight metro stations remained closed all day, the luxe in the whole has been affected by those strikes mainly lead by people fighting against people earning a lot of money.