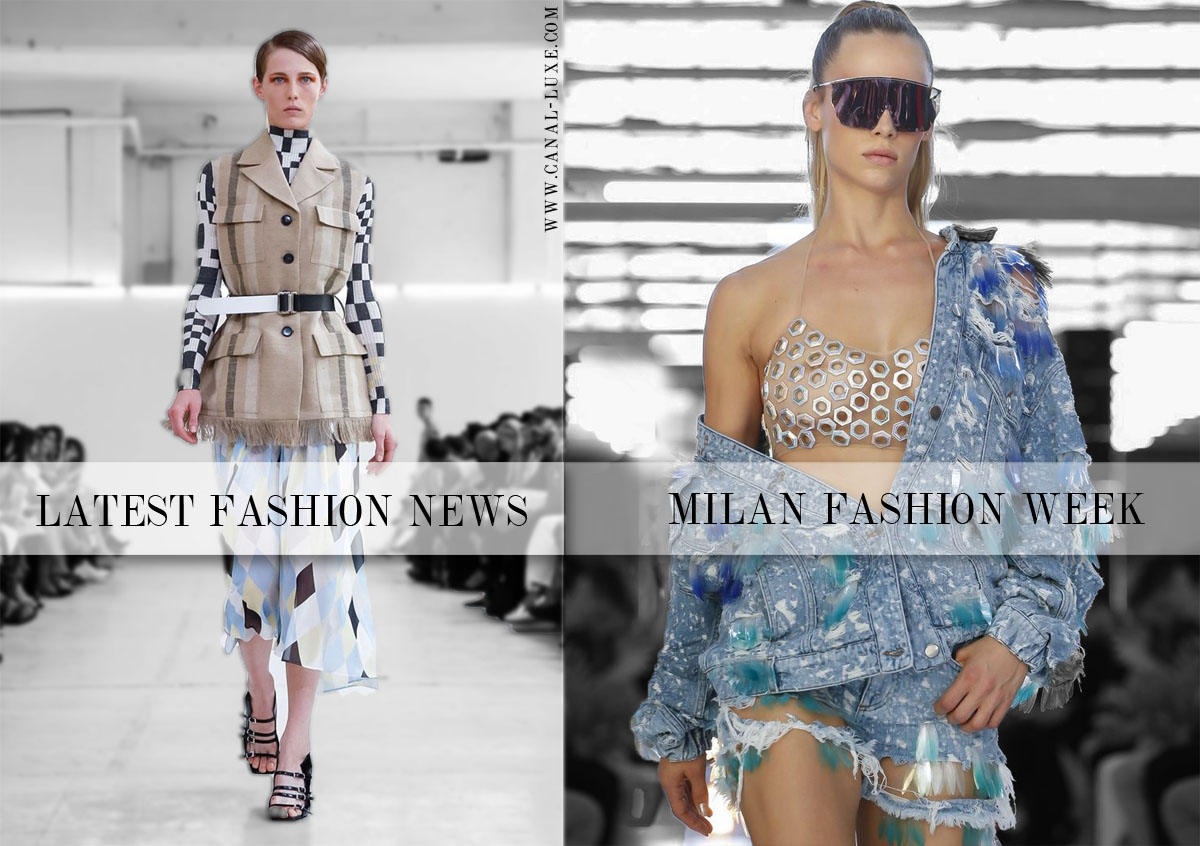 There are plenty of birthday candles to blow out this time around during Milan Fashion Week 2019.
It's a season of celebrations, starting with the Camera della Moda, which this year marks its own 60th anniversary. Etro is staging an exhibition for its 50th anniversary and Missoni and Les Copains cap off 65 and 60 years in business, respectively.
Missoni is planning a coed show on Sept. 22 for 1,000 people, followed by a party. However, this is also a time to look ahead for the company, which in June revealed it was selling a minority stake to a government-backed private equity fund, FSI Midmarket Growth Equity Fund, for 70 million euros. Angela Missoni assumed the role of president, while maintaining her creative director title and former Valentino and Salvatore Ferragamo chief executive officer Michele Norsa has become vice president of the company.
Norsa believes this could be a "record" year for luxury, especially driven by China and the U.S., which is performing "better than expected." In Italy, there are question marks about how much interest the government will take in the fashion industry as it is focusing on other priorities, such as the country's budget. Norsa admitted that there is "an uncertainty that markets detest, which also creates anxiety in consumers with an effect on spending and a slowdown in investments" — a situation not limited to Italy but evident in other European countries as well.
The executive said he was "amazed" by the vitality of Milan, which has recently seen the opening of the new sleek Apple flagship designed by Foster + Partners and the long-awaited arrival of Starbucks its first outpost in Italy in a storied building that formerly housed the city's central post office.
"There are so many tourists from many different countries. The attractiveness of Milan has grown very much, with its excellence of architecture, fashion, and a discovery of its artistic values," said Norsa.
Asked about the calendar for fashion week, which runs from today to Sept. 24, he said "there is a permanent transformation with outside events and exhibitions that generate buzz and create interest. It's a very positive moment for the city. All the other shows, from cruise to special events, weaken the system of runway shows, but they are at the same time useful to bring the brands around the world."
Moncler chairman and ceo Remo Ruffini said there was "little we can do" about politics and geopolitical issues. "Problems are becoming increasingly international," a fact he believes requires companies to "to be extremely flexible. We must stay focused and close to the market."
Moncler Genius will today hold a presentation of what Ruffini called "an update" or an integration of the capsule project unveiled in February. "The Genius event is once a year, in February, to present a concept for 12 months," he clarified. The executive was upbeat about the rollout of the capsules, begun in June. "It's excellent and I am very satisfied with the execution. We had to change our culture, becoming a company with monthly deliveries, moving away from our seasonal structure."
So far, Moncler Genius has launched the Fragment Hiroshi Fujiwara capsule, followed by Noir Kei Ninomiya, Moncler Craig Green and Moncler 1952, while the Simone Rocha designs will bow on Thursday. On Oct. 4, two temporary spaces, called The House of Genius, will open to the public in New York and Tokyo, carrying all the Moncler Genius collections. There also will be around 40 pop-up stores in some Moncler flagships and at select wholesalers. The pop-ups will launch the Palm Angels capsule. Pierpaolo Piccioli's collection will be in stores on Oct. 11 while Moncler Grenoble will be available at the beginning of November. The last collection to be launched will be in early December and it will be the second drop of the Fragment Hiroshi Fujiwara capsule.
Massimo Ferretti, executive chairman of the Aeffe group, said he had "positive expectations" for Milan Fashion Week, which will see a change of locations for Alberta Ferretti, showing today in a bigger venue in Piazza Lina Bo Bardi, as well as for Philosophy di Lorenzo Serafini and Moschino. The latter will also introduce its new fragrance with the show.
"We are planning three events on the same day, Sept. 22, for Philosophy, a brand which is giving us great satisfaction and visibility," said Ferretti, citing the show at the Triennale Museum, a cocktail to present a pop-up store at Tearose Boutique, and an after-show party with Amanda Lear.
Ferretti emphasized how the group's e-commerce site is increasingly a driver of growth and said the company is renovating the Moschino site, which will be followed by Alberta Ferretti by the end of October and by Philosophy. As reported last March, the group has partnered with Triboo to launch a global omnichannel distribution project, taking its online and off-line sales channels in-house. The online stores for Moschino, designed by Jeremy Scott; Alberta Ferretti, and Philosophy di Lorenzo Serafini were previously operated by the Yoox Net-a-porter Group.
Just back from a trip through Asia and the Middle East, Roberto Cavalli ceo Gian Giacomo Ferraris also pointed to the brand's new web site and e-commerce platform working with Black & White, Farfetch Group's independently run business unit, with shipments to 120 countries. Ferraris struck a positive note, "confirming his year-end plan" to see the company break even in 2018, while conceding that the market is "tough, with a polarization of brands."
He is spearheading a turnaround of the label, which is now designed by Paul Surridge. As reported, Italian private equity fund Clessidra SGR, which took control of the Florence-based brand in 2015, is said to be open to bringing in other investors to inject fresh capital and expand the fashion house. A new concept for Roberto Cavalli's men's division will be unveiled the day of the show on Sept. 22 at the brand's Via Montenapoleone flagship. Ferraris said "there will be several capsules" the company will roll out in the second half of the year.
"Capsules are a way to be closer to consumers in a retail-oriented world, helping to gauge their response and refresh stores," he said.
The company during New York Fashion Week opened what Ferraris called "an experiential laboratory" housed in a traditional brick town house in the revitalized Seaport District in Lower Manhattan. The two-story, 2,160-square-foot space will host a series of activities, and showcase a selection of pieces from the brand's collections as well as dedicated capsule collections. Ferraris pointed to the brand's successful Viper sneaker, unveiled in June in Florence, which will be exclusively customized for the Seaport store. Further strengthening ties with the New York scene, while details are still under wraps, the company is developing a project in collaboration with a still-undisclosed American fashion institute.
A special Etro 50 capsule collection codesigned by siblings Veronica and Kean Etro will mark the family brand's 50th anniversary. Etro's exhibition, which will be inaugurated on Sept. 22, a day after the brand's show, will retrace the history of the company, which was founded in 1968 in Milan as a textile firm by Gerolamo Etro. His son Jacopo Etro, the company's home and textile creative director, said the exhibit will be staged at the MUDEC museum, as the location celebrates international cultures, reflecting the brand's "vision and DNA, always influenced by travels and by an interest in what is far and different. The goal is not to create something too didactic, but we really want this to be an entertaining and playful exhibition."
Les Copains is revisiting its storied designs over the past 60 years for its show on Sept. 22, and has engaged students of Istituto Marangoni for the project "It's My Dream," a capsule collection of 12 outfits, selected from among the best looks from the young designers, which will be presented in a dedicated corner at the Sala delle Cariatidi, the beautiful salon in a neoclassical style at the Royal Palace.
While not actually marking an anniversary, Fila will stage a retrospective exhibition at the Triennale Design Museum that opened on Tuesday, choosing Milan to make its runway debut with a coed show on Sept. 23. For the brand's debut in the high-end fashion arena, Fila tapped as creative directors Antonino Ingrasciotta and Joseph Graesel, who worked together at Strenesse and Adidas Originals.
"For this initial show, we have decided to start from the country where the brand was originated in 1911," said Fila global chairman Gene Yoon. "We genuinely believe that Italy is one of the first countries to have been involved in premier fashion and is also a land abundant in beauty and creativity. We also think that Milan Fashion Week is one of the most relevant and contemporary platforms in terms of presence and visibility."
Gucci, while showing its spring 2019 collection in Paris for this season only, will help to contribute to the buzz in Milan with an event today at its Hub headquarters, entertaining its guests with a performance by the Michael Clark Co. Their collaboration dates back to March, when GQ and the fashion brand partnered on the second installation of the short film series "The Performers," with Clark headed on a journey to Tokyo.
Other special events include Milan's first Azzedine Alaïa exhibition; a double homage to Sarah Moon at Giorgio Armani's Silos space and Carla Sozzani's 10 Corso Como concept store; a major concert by a yet-to-be-revealed singer after the Emporio Armani show at Linate airport; the amfAR Gala, and the second Green Carpet Fashion Awards event at La Scala theater which are both expected to raise the glamour content.
Sergio Rossi will continue to open special Milan locations to the public with a show on Sept. 21 at the 17th-century Biblioteca Ambrosiana. "We have been allowed to keep the stunning masterpieces on display there," said ceo Riccardo Sciutto, citing works by Caravaggio, for example. Presenting a collection "has to be emotional. Four shoes in a glass case and I fall asleep," said Sciutto with a laugh.
He has been working on re-creating Sergio Rossi's archives of 6,000 shoes from the Sixties onward at the company's headquarters in Italy's San Mauro Pascoli, which include models for Franco Moschino, Gianni Versace and Azzedine Alaïa, to name a few. The company is rolling out stores in London, on Mount Street, in January in a Victorian two-story building. A store will open in Dubai and four additional units will open in China by the end of the year in a partnership with Adrian Cheng.
"We want to open on Madison Avenue by Christmas it would be my Christmas gift," said Sciutto.
That will be followed by a pop-up store in Los Angeles in January or February, to coincide with awards season, with a new concept. Sciutto ticked off a number of celebrity fans of the brand, from Lady Gaga and Katy Perry to Rihanna and Beyoncé, who wears Sergio Rossi boots on stage during her tour "On the Run II." "Our artisans produce architectural wonders," said Sciutto, referring to the comfort of the shoes, a must for a performing artist.
Frette is also leveraging the international appeal of Milan to celebrate the renovation of its storied store on Via Manzoni, which first opened in 1877. "We wanted to incorporate the new store within Milan Fashion Week and engage our customers and the wider public with fun events," said ceo Filippo Arnaboldi.
To that end, the company has personalized a tramway, where games will be played, and conceived a dedicated itinerary throughout the city for one week, with stops at Milan landmarks such as the La Scala theater; models on the square wearing Frette luxury pajamas, and a ballet event at Cracco restaurant in Galleria.
"We want to bring our products outside the store and we think it's a fun way to communicate because we want to change the brand's perception. The message is that Frette is exiting the confines of the home, it's a message of lifestyle and flexibility," he said.
Milan is only the first stop for Frette, as this communication strategy will next hit Hong Kong, London and end in Paris in mid-October. Frette, which was acquired by Change Capital Partners in 2014, is also preparing an event with leading Russian retailer Bosco di Ciliegi with the Bolshoi Theatre at GUM in Moscow on Oct. 3 and 4.
Fabiana Filippi will hold its presentation at its new sprawling headquarters in Milan, in a five-story building constructed in 1939 that the Italian company has restored. Covering 27,000 square feet, co-ceo Mario Filippi Coccetta said the new space is five times the size of its previous showroom in Milan and defined it as a "bridge" between the Umbria region, home to its manufacturing plant, and its international markets. While declining to provide an amount, Coccetta Filippi emphasized how such an important investment "proves our belief in a structure that will help to bring our business forward, give us visibility, and make us even more international."
The entrepreneur said he was happy with the end results, after a three-year search for the right location and 18 months of work. "We wanted to be central and it was not easy to find a space as big as this one, and it perfectly responds to our needs," he said. The company, which counts 1,100 wholesale clients worldwide, and 50 doors, this year opened stores in Dallas, St. Petersburg and Munich. "Those who read the changes in the market better and sooner are the winners that is the challenge," mused Coccetta Filippi.