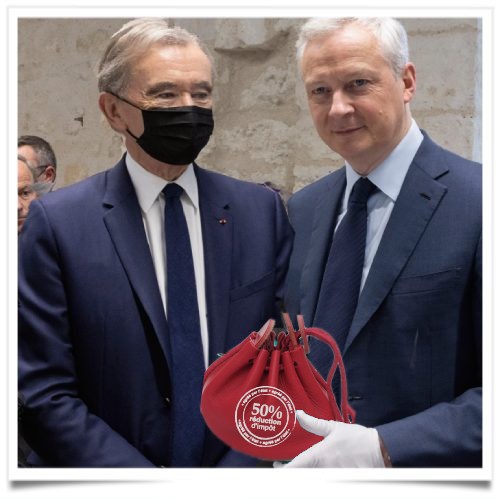 In 1371, after the death of Count Bouchard VII and his daughter Jeanne de Vendôme, Catherine de Vendôme, their sister and aunt, inherited the county of Vendôme. Her marriage to Jean VII Count of Vendôme gave birth to the House of Bourbon-Vendôme, this is why the lord chose this city
Le Maire spent four hours touring the workshops in Azé and Vendôme for LVMH who  spent between 15 million euros and 20 million euros to buy and restore the historic Abbaye building in Vendôme, which dates back to the 11th century and variously housed a Benedictine monastery and a cavalry regiment. The four-story structure has been open since September 2020, but its inauguration was delayed due to the coronavirus pandemic.
Against the backdrop of the French presidential election campaign and the deepening crisis over Russia's troop movements in Ukraine, a sizable media contingent turned out for the ceremony, attended by Bernard Arnault, chairman and chief executive officer of LVMH Moët Hennessy Louis Vuitton, Louis Vuitton chairman and CEO Michael Burke and French Finance Minister Bruno Le Maire.
The Oratoire workshop in neighboring Azé, meanwhile, is being touted as the first industrial building of its type in France, with an eco-design that cuts energy consumption by half compared with a classic Vuitton leather goods workshop.
The two sites, which employ 150 people but will eventually house 500, specialize in bags made from exotic skins such as crocodile. I thought it was a shark house !
In addition to setting up shop at the historic site, Vuitton which has a flagship and high jewelry atelier on Place Vendôme in Paris struck a deal with local authorities to use the Vendôme name for its jewelry collections.
LVMH said it will continue to expand its production capacities, with plans to recruit 1,000 people by the end of 2024.
"The real battle for industrial recovery is not just a question of taxes," Le Maire said. "We will achieve the reindustrialization of France only by recognizing the value of training, manual work and apprenticeship." Jacques Mouclier's spearhead on the revaluation of manual work finally heard!