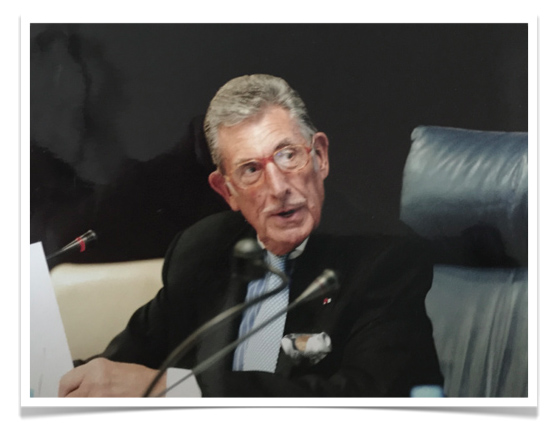 Paco Rabanne used to say that he was the reincarnation of a Spanish grandee. The President of the former French Federation of Haute Couture, Jacques Mouclier, died yesterday. During 50 years he has protected and defended the profession which today, thanks to him, embodied the French industry of Luxe.
50 years ago he went with the French government to conquer the Asian market because he had very soon understood the importance of that continent. He welcomed then the young foreign designers "Issey Miyake, Kenzo, Kansaï Yamamoto, karl Lagerfeld and so many others that he will propel to the front row. He never stopped helping them to protect their brand name and lobbying with the French government to make sure that their brand name remain French.
During his mandates at the French Federation ofHaute Couture, he restructured "Les Ecoles de la Chambre Syndicale" in coordination with the Maisons de Haute Couture. He reorganised the catwalks at the Carrousel du Louvre to enable the international press to remain in the center of Paris. He created an investment fund "mode and Finance", which is now managed by the BPI (Public Investment Bank) to help young designers. He organized an event which remains the only one so far: 'The Oscars of Fashion'
He was also the President of the Art Profession and of the Crystal Federation. He was that kind of gentleman that everyone respected because of his integrity. Monsieur, we will miss you.
The group Canal-Luxe expresses his sincere condoleances to your family.
Anonymode