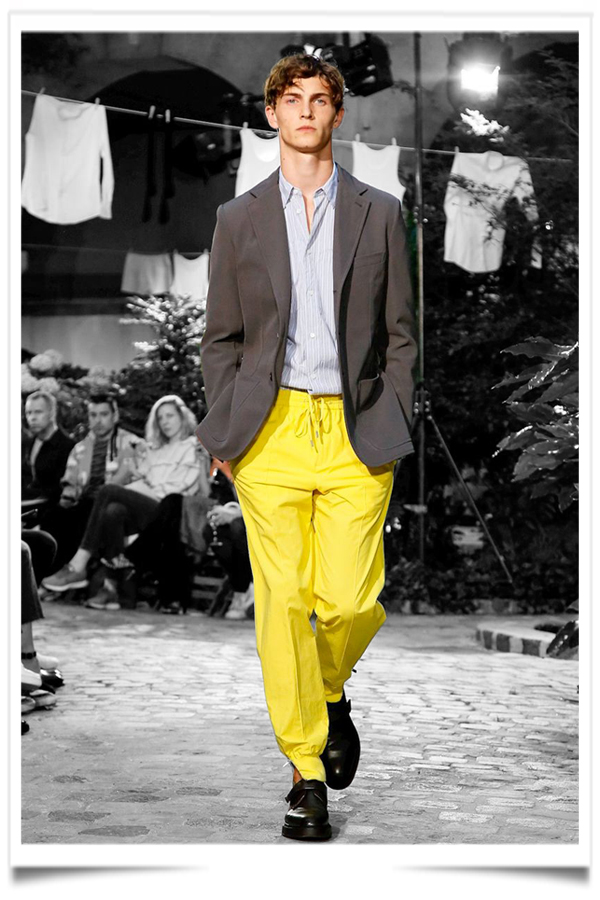 The shapes were modern based on 181 years of Hermès savoir-faire and 30 years of Nichanian without experience from the School of Chambre Syndicale. So yes there was a tracksuit, but you couldn't call it sportswear unless your sport of choice is looking like the ultimately understated contemporary man of leisure; the parisian "bobo".
Cut, like much of the outerwear in this collection, in étrivière lambskin, almost black but with a slight teal hue, and featuring the same zippered detail at the cuffed hem that ran through many of the pants in this collection, it was outrageously neutral in its simpleness. The H-fronted sports sandal below it told you where it was from, if you didn't have the eye to know already. There were some ridiculously difficult to achieve T-shirts, pants, and a knit cardigan with a front panel in four-color lines of water snake: again the straightforwardness of the silhouette was belied by the technique of the garment. And so it went.
Bags included what looked like an oversized Birkin in blue with gently off-color spray details and versions of the Plume in the same colorway, plus crocodile. Forgetting the expense for a moment, how confident would you have to be in your own identity (and legs) to choose a plain cotton summer short – cut neither too wide nor too long from Hermès, rather than somewhere whose brand identity, rather than yours, came first? This was not an earthquake of a collection: and that, as ever, was the not its aim. This was deep menswear – slowly nurtured, and beautifully observed.