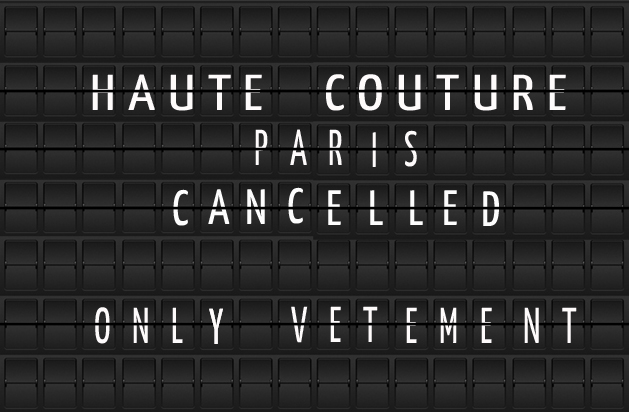 Take a look around you. Everything changes, but nothing changes ! We can't be afraid of change. You may feel very secure in your environment, but if you never venture out of it, you will never know that there is such a thing as an ocean, a sea.
Time flies so quickly. It rushes from Heaven to Hell in a matter of seconds, but Haute Couture continues its journey as if the world had not changed and had remained in steam train. "Nothing to compare with travelling by train, an experience that engenders wonder, nervous anticipation and heady exhilaration in equal measure" wrote Mark Twain.
However what was right in the 19th century does not work anymore and surely not for the Chambre Syndical of French fashion which has not yet jumped into the 21st century fast train. Welcome Ms Laurence Sudre, we wish you good luck in this new venture.
Sunday 03 july 2016
2 pm  YUIMA NAKAZATO
3 pm  FRANCESCO SCOGNAMIGLIO    Presse t + 39 02 31 66 59 / contact
4 pm  ADELINE ANDRÉ   Presse t + 33 1 70 22 64 03 /  contact
5 pm  ULYANA SERGEENKO    Presse t + 33 1 42 61 34 36 / contact
6 pm  VETEMENTS    Presse t + 33 1 40 37 90 73 / contact
7 pm  GUO PEI    Presse t + 33 1 77 72 77 63 / contact
8 pm  ATELIER VERSACE*  Presse t + 33 1 47 42 88 10 / contact
Monday 04 july 2016
10 am  SCHIAPARELLI    Presse t + 33 1 55 35 20 90 / contact
11 am  SCHIAPARELLI    Presse t + 33 1 55 35 20 90 / contact
12 pm  IRIS VAN HERPEN    Presse t + 33 1 42 61 34 36 / contact
2:30 pm  CHRISTIAN DIOR   Presse t + 33 1 40 73 92 72 / contact
5 pm  CHRISTIAN DIOR   Presse t + 33 1 40 73 92 72 / contact
6:30 pm  RALPH&RUSSO     (Paris 1er)Presse t + 44 20 8878 5399 / contact
7:30 pm  GIAMBATTISTA VALLI   Presse t + 33 1 42 61 34 36 / contact
Tuesday 05 july 2016
10 am  CHANEL    (Paris 8e)Presse t + 33 1 44 50 70 00 / contact
11 am  AOUADI    Presse t + 33 1 42 61 94 79 / contact
12 pm  CHANEL    (Paris 8e)Presse t + 33 1 44 50 70 00 / contact
1:30 pm  ALEXIS MABILLE   Presse t + 33 6 61 76 66 88 / contact
2:30 pm  STÉPHANE ROLLAND
4 pm  JULIEN FOURNIÉ     (Paris 1er) Presse t + 33 1 44 43 84 21 / contact
5 pm  J MENDEL
6 pm  GIORGIO ARMANI PRIVÉ*    (Paris 16e)Presse t + 33 1 55 73 22 50 / contact
7:30 pm  ALEXANDRE VAUTHIER    (Paris 16e)Presse t + 33 1 42 21 36 36 / contact, contact
Wednesday 06 july 2016
10 am  MAISON MARGIELA   Presse t + 33 1 44 53 63 20 / contact
11 am  FRANCK SORBIER   Presse t + 33 1 75 51 70 55, + 33 9 51 71 47 51 / contact,
12:30 pm  ELIE SAAB*   Presse t + 33 1 42 56 77 75 / contact
1:30 pm  ILJA
2:30 pm  JEAN PAUL GAULTIER   Presse t + 33 1 72 75 83 00 / contact, contact
4 pm  VIKTOR&ROLF*   Presse t + 33 1 42 61 34 36 / contact
5 pm  ZUHAIR MURAD
6:30 pm  VALENTINO*    (Paris 8e)Presse t + 33 1 55 35 16 00 / contact