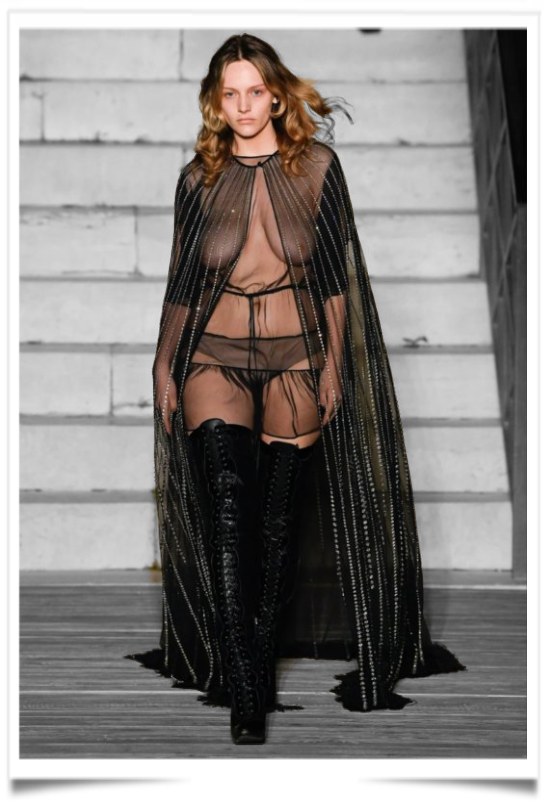 It was a stunning show staged by Alessandro Michele and his team Monday night, with old maps of constellations and shooting stars lighting up the 13th-century Castel del Monte in Italy. There were cascades of sequins embroidered on a few medieval gowns and on cool baggy denim jeans as the moon shone over the Apulian castle perched on a hill.
The hot Maneskin band attending the show and performing at the after-party might appreciate his all-leather trenchcoat and thigh-high boots, and the sequined tailored pantsuit could appeal to Elle Fanning or Dakota Johnson who were also at the event.
Gucci a brand that reported 2021 sales of 9.73 billion euros and while he realizes fashion reflects life and Gucci speaks to a global customer. Although the harlequin motif was a bit of a stretch, the medieval references ran from the multicolor graphic patterns to the collars with Elizabethan necklines.
A blue velvet embroidered gown was a stunner, but there were also prim ladylike suits and coats with mock-fur details. He also played up optical black and white patterns in body hugging dresses. But Michele's Gucci woman is no wallflower and there were a few nude looks and flimsy chiffon minidresses.
After the medieval a another unexpected inspiration was Greta Garbo, structured '30s and '40s jackets were reflected in some of his jacket designs. A wooden handbag in different strips of brown hues, a revisited signature hobo and a checkered canvas bamboo bag are sure to be hot tickets.
It blends elements from Northern Europe, the Islamic and Swabian worlds and classical antiquity, representing a crossroads of different civilizations and religions  a change from the Baroque architecture he is used to in Rome.