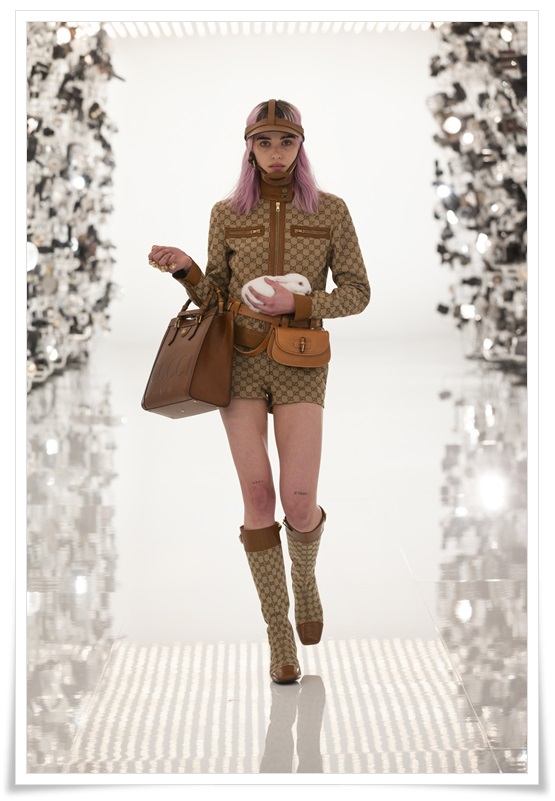 Gucci marks its centenary in 2021, passing through family feuds, take-over attempts, a near-bankruptcy, a public listing, storybook turnarounds and even a murder which has sparked the Ridley Scott film "House of Gucci" Just like the long-lived mythological phoenix, Gucci has cyclically regenerated, reaching its centenary in 2021.
Guccio Gucci, who in 1897 found work at London's prestigious Savoy Hotel as a bellboy. Famously, the tale goes that he was inspired to create his company by the luxurious suitcases and trunks carried by the aristocrats staying at the hotel. In 1921, Gucci's first stores opened in Florence, where he founded the company. The boutique in Rome's luxury shopping street Via Condotti opened in 1938.
As a result of a League of Nations embargo against Italy, Gucci he found alternatives to imported leather and other materials in the 1935-1936 period, developing a specially woven hemp from Naples, printed with the first signature print.
Production of leather goods resumed after World War II, and Gucci's son Aldo introduced the pigskin, which became a signature house material. The first bamboo-handled bag, inspired by the shape of a saddle, is thought to be produced in this period.
In 1961, stores opened in London and Palm Beach and the bag that Jacqueline Kennedy was seen with was renamed the Jackie, which would be relaunched in 1999 in many colors and variations to great success, opening the era of the Gucci "It" bag.
In 1966, the Flora scarf print was designed for Princess Grace of Monaco. The pattern has become iconic for Gucci, revisited by creative directors Frida Giannini and, most recently by Alessandro Michele in his Aria collection.
Gucci's first fragrance was launched in 1975 and scents would continue to be a stronghold for the company, from Gucci Guilty and Flora by Gucci to Gucci by Gucci and Gucci Bloom.
In 1981, Gucci showed ready-to-wear for the first time at the Sala Bianca in Florence, playing heavily on the Flora print. On March 27, 1995, Maurizio Gucci was gunned down in front of his office in Milan.
For nearly two years the identity of Maurizio's killer remained a mystery, until it was revealed that his ex-wife Patrizia Reggiani through her spiritual adviser had hired a hit man to end his life.
The year Maurizio died, Gucci went public on the New York and Amsterdam stock exchanges, as the company thrived under the lead of CEO Domenico De Sole and Ford dubbed the Tom and Dom Dream Team, becoming architects of the ultimate luxury brand revival.
In April 2021, marking the brand's 100th milestone, Michele presented his "Aria" collection, revisiting a number of Gucci signature designs, from the Bamboo bag to the Flora motif, and introducing an innovative tie-up.
Gucci is sure to get an extra dose of attention from the "House of Gucci" movie being filmed in Italy and expected to premiere in theaters on Nov. 24, with Lady Gaga playing Patrizia Reggiani. A history of the brand out of the ordinary, that of a family of luxury and fashion, but also a success story as we know in Italy.