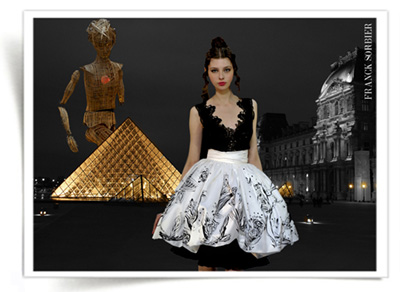 The power of imagination is the ultimate creative power. The ability to form a mental image of something that is not perceived through the five senses. The real key to turning imagination into reality is acting as if the imagined scene was real and already accomplished.
Instead of pretending it is a scene from the future, imagine it if you were truly experiencing it in the present. It is a real event in the present moment.
The great Master Franck Sorbier, through the ages, whatever you believe, you become. If you believe and you imagine that you are in the present moment, you wish that reality should be conformed to the dream and closed to the Fashion industries.
Everyone possesses some sense of imagination ability except for Anne Valérie Hash.
Franck Sorbier, you are the genius of Fashion, you are the best anyway. I love you and your team. Canal-luxe.org supports you. Continue to suprise us, even if you are late a couple of hour for the next show, we will never leave the show like French journalists from the French daily "Le figaros" who unfortunately are too young to understand anything about poetrie and glamour.