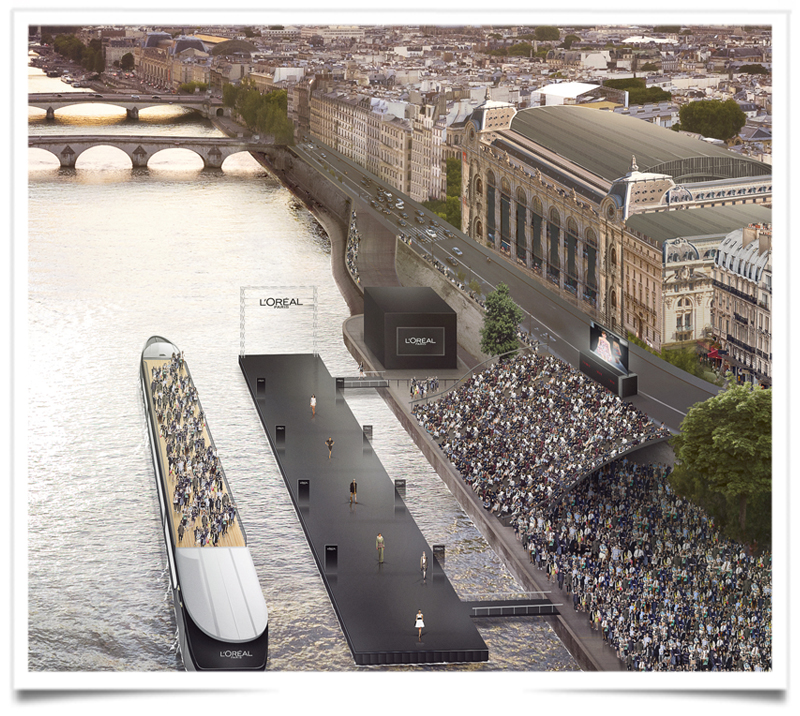 L'Oréal Paris is gearing up to stage its second fashion-beauty runway show, With a floating catwalk near the Musée d'Orsay, the display on Sept. 30 at 2 p.m. at the Port de Solférino is expected to attract even more eyeballs than the high-profile show staged on the Avenue des Champs-Élysées last year.
"Everyone is invited," Pierre-Emmanuel Angeloglou, L'Oréal Paris global brand president, told "We wanted to choose an iconic space in the city that really reflects the true Parisian spirit."
Le Défilé L'Oréal Paris a "celebration of beauty, fashion and diversity." The program is done in partnership with the Chopard jewelry brand and 12 established and emerging fashion houses, including Off-White, Balmain, Jacquemus, Isabel Marant, Ami, Giambattista Valli and Elie Saab, which will be showing looks inspired by Parisian chic from their fall 2018 collections.
L'Oréal Paris expects that 200,000 people could be able to view the show, to take place on a 195-foot-long catwalk, live from the riverbanks and a bridge. (Boat traffic on the Seine will be halted for a half-hour while the display is going on.)
Also during PFW, which starts on Sept. 24, L'Oréal Paris will be involved in makeup and hair backstage at 15 fashion shows. Linked to PFW, too, is the party L'Oréal Paris and Isabel Marant will cohost on Sept. 27 to fete the brands' color cosmetics capsule. That's the same day the L'Oréal Paris x Isabel Marant line is set to drop internationally, and it will be used to make up models backstage for the fashion label's catwalk display for spring 2019.
L'Oréal Paris first became a Paris Fashion Week sponsor in early 2016.