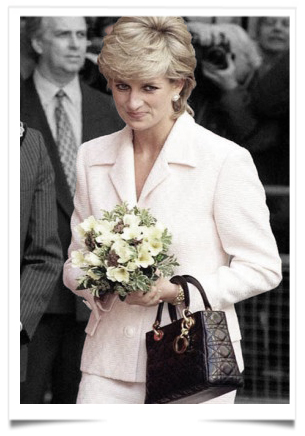 In 1995, Bernadette Chirac wished to give Princess Diana a unique handbag on the occasion of her visit to Paris. When France's first lady contacted Dior in her search for such a bag, the House offered her a model unofficially named Chouchou at the time. It was officially rechristened Princesse in the short term.
The bag, black in color, was presented to the former Lady Diana at the inauguration of the Cézanne exhibition at the Grand Palais. It was then often photographed carried by Diana at public events: she had it with her in Birmingham during an official visit; again a few weeks later during a stay in Argentina; then on several further occasions.
It was soon being described as "iconic" and "legendary". Dior was launched in larger series, with its name changed to Lady Dior. Two hundred thousand models were sold in two years and Dior's leather goods turnover increased tenfold. The bag in turn gave its name to a watch in 1999 and inspired a makeup product by Parfums Christian Dior.