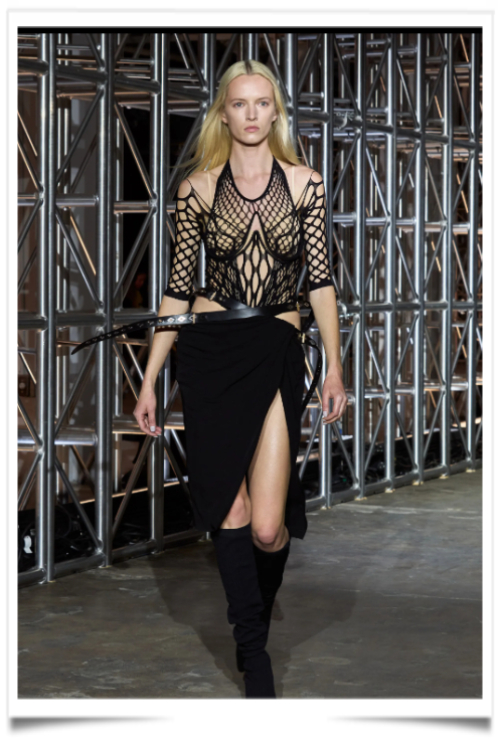 Roots under my words, leaves at my fingertips, I dreamed of creating a lyrical lineage, but it will not be for today. There is an immutable rule in Fashion Week that the shows always start late and at Dion Lee's show it is in an empty loft in midtown Manhattan that we have been waiting for 50 minutes, as if the designer had not finished this collection that has already started for over 6 months.
All his life as a designer he was a chronic latecomer, he missed his appointments with me, and yet when he dies we will agree to say that he left too early; the last straw! Here it is the party in New York, clud 54 and tutti quanti, and for a good reason the designer born of the largest island of Oceania has found a niche by creating what is practically an outfit for the Rave parties, Kangaroo obliges. Lee has a look always carried on the sex, its cuts not precise reveals the most often a body of model who is not perfect either.
Tight dresses, tank tops with puffed sleeves, mini skirts and jeans that are only a wear two even are legion. The collection was slightly more refined than that of Kim Shui without losing his identity on the fact that he is a cool person. And the stars he worships including Julia Fox and Ice Spice sitting in the front row, confirmed their disease of narcissus syndrome, and on the other side of the party people for a drug sex and iPhone Video until the end of the night. It is necessary to "fuck" the pressure.
Once the show was over, the crowd seemed eager to go to the after party of the designer, in which participated the rapper Azealia Banks one of those bimbos that I like to watch with my acerbic eye but I took the French leave. Banks just the name alone will make this designer Bankable, but unfortunately not talented.
FM