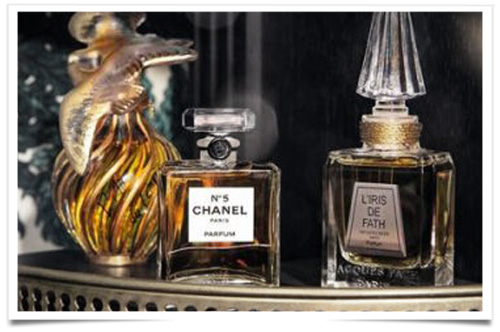 Designer fragrances have had a storied history. Paul Poiret became a perfume entrepreneur in the early 1900s, while Gabrielle Chanel in 1921 introduced Chanel No. 5. Christian Dior started his storied perfume business with Miss Dior in 1947.
Yves Saint Laurent came out with Y in 1964. Norell, in 1968, "hit American department stores like a bomb,". Halston by Halston launched in 1975. "In its second year, it made more money than the whole of Max Factor USA,
"Then came Opium in 1977, the blockbuster from Chantal Roos ," YSL launch that channeled the brand's essence of excess with everything from its provocative name, juice, advertising, bottle and launch party one year later on a boat moored in New York's South Street Seaport, where vessels loaded with opium used to arrive from Asia.
In 1992, for instance, Issey Miyake introduced L'Eau d'Issey always by Chantal Roos, meant to reflect the smell of water, coming in a never-seen-before cone-shaped bottle. That year also, Thierry Mugler's Angel shot into the scene, with its gourmand fragrance and star-shaped flacon from Vera Strubi. And in 1993, Jean Paul Gaultier's Classique broke all the codes, contained in a bust-shaped bottle and tin-can outer packaging.
Over the last 20 years, what were once the venerable, inspirational and aspirational brands have becomea simple commodities.
To be sure, designer fragrance brands remain top sellers, with multinationals such as Chanel, L'Oréal, Coty, LVMH Moët Hennessy Louis Vuitton, Puig and Inter Parfums backing them.
However, more recently these luxury players have faced rising competition from other high-end brands, particularly as premium unisex fragrances gain momentum—notably players such as Jo Malone, Le Labo, Kilian and Diptyque.
When big brands are exploring their patrimony they find some treasures, and that's a way to launch niche brands within large brands.
With two labels Paco Rabanne and Carolina Herrera among the top-10 designer fragrance labels worldwide, Puig has created winning strategies to keep brands fresh.
Among the steadfast elements is the need for a strong fragrance, packaging, overall concept, point of differentiation, creativity and innovation. Few multinationals are inking traditional licenses with new fashion brands.
Inter Parfums just signed Moncler, but Moncler is a very big brand nowadays. It's pretty hard for a young designer to find a fragrance company that is willing to gamble on a name, the way Clarins gambled on Thierry Mugler in the Eighties or BPI gambled on Narciso Rodriguez or L'Oréal on Viktor & Rolf.
If you take a hipster brand or an urban brand, it's hard for consumers to imagine the association with fragrance in the traditional sense. Whereas with a classic brand like an Yves Saint Laurent, someone will associate the eau de parfum with fashion in the sense that it's another invisible accessory. So there's a paradigm shift in that the type of fashion brands coming out now are more casual and sort of freeform, a world or universe that's not necessarily associated with fragrance.