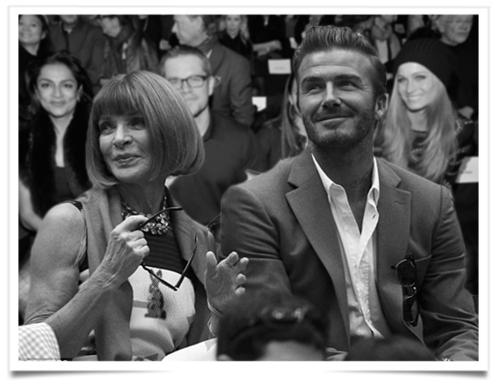 This is the wonderful world of fashion! The week is over and every journalist has reported on the collections and the fashion house.
Regarding Ms. Wintour, she has said  nothing about the financial situation of the most famous fashion Spice Girl on the planet which is not far from bankruptcy.
Victoria who made a turnover of £34m in 2014, set up her own store in Mayfair, London two years ago. The shop cost her nearly £3m and items included Damian Hirst artwork on sale for £600,000.
The Director's Report said: 'The contracts held by the company relating to the David Beckham brand were transferred during the year to DB Ventures Ltd, a sister company of David Beckham Brand Holdings Ltd which is focused on exploiting the David Beckham brand.'
The accounts suggest it is a transfer of operations between companies owned by Victoria and David. In effect the couple are simply moving the profits between themselves. At the end of last year, figures revealed that David and Victoria Beckham's earnings were said so high that their second careers are even more lucrative than their first.
The couple are still very much reliant on David for their personal income, however, as Victoria's company made a net loss while David's companies, which have few overheads as they mainly deal with selling his image rights, made £12.7million profit.
In 2011, in a far cry to her days in the Spice Girls, Victoria was named designer brand of the year of the British Fashion Awards.
Two years ago she was named Entrepreneur of the Year 2014 by Management Today magazine for creating 'a company that is both real and wildly successful'.