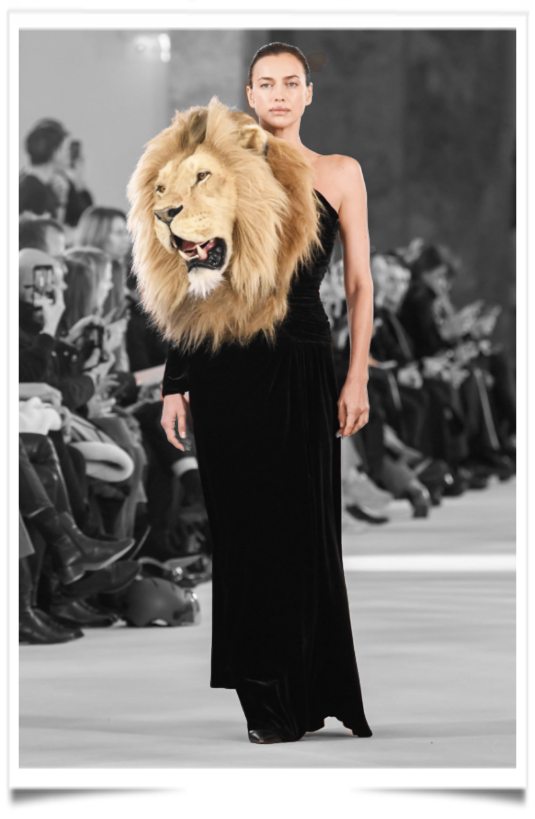 A spectacular display of Schiaparelli's Surrealist aesthetic kicked off Paris Fashion Week. At the center of the firestorm were three outfits incorporating eerily realistic replicas of animal heads: a snow leopard, a lion and a wolf.
Shalom Harlow wore a snow leopard bustier dress, based on an archival 1938 design, while Irina Shayk wore a lion gown and Naomi Campbell wore a wolf coat. Some online commenters praised the reproductions' artistry, while others accused the house of glamorizing trophy hunting.
The creatures were inspired by Dante's "Inferno," which provided the broad inspiration for the spring collection. However, the point was really Dante himself and this story about trial, tribulation, doubt, and the need to experience all of that in order to reach paradise," the designer explained.
It's understandable that Roseberry feels blank page anxiety after his creations were exhibited as part of Schiaparelli's retrospective at the Musée des Arts Décoratifs. A strap dress shimmied with sequins made of tin covered in leather, while a bustier with a dramatically horned neckline quivered with ecru glass bugle beads.
His outlandish looks reflected his concept of couture as a space for experimentation and awe. Behind the headline-grabbing runway looks, Schiaparelli has a thriving couture business that caters to practical women. In response, Roseberry created a wide selection of black evening gowns and corset-style hourglass jackets.
As a result of Monday's controversy, animal heads won't be making a repeat appearance on the red carpet. A superlative collection was overshadowed by controversy. Hopefully, this won't dampen Roseberry's innovation spirit.