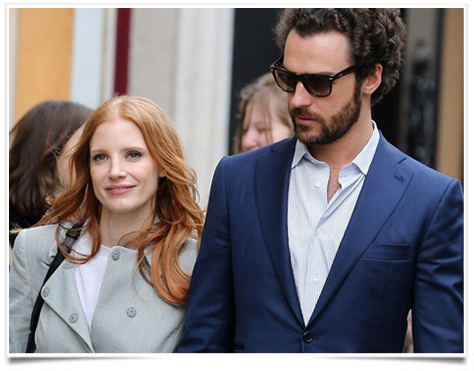 Jessica Chastain married Moncler Executive in Italy. The bride wore a custom-made strapless white gown which seems to be designed by Riccardo Tisci, who was present at the wedding, posting live updates on his Instagram account.
The ceremony gathered celebrities and representatives of the fashion world, including Anne Hathaway, who was wearing a violet a red Valentino gown, flanked by husband Adam Shulman; actress Emily Blunt, who sported a Peter Pilotto fall cerise dress with metallic sandals; Moncler's chief executive officer Remo Ruffini; Giorgio Armani's niece Roberta Armani; British Vogue editor in chief Edward Enninful, and socialite Bianca Brandolini d'Adda, who wore an Azzedine Alaïa fall 2016 two-piece look, made of a burgundy laced crop top and long skirt.
The couple started to date in 2013. Passi de Preposulo belongs to a noble family that goes back over 1,000 years, based in Bergamo Alta, an hour drive from Milan.
He works at Moncler, managing the celebrities and events department of the label. Passi de Proposulo's former experiences include director of public relations at Giorgio Armani group. OK