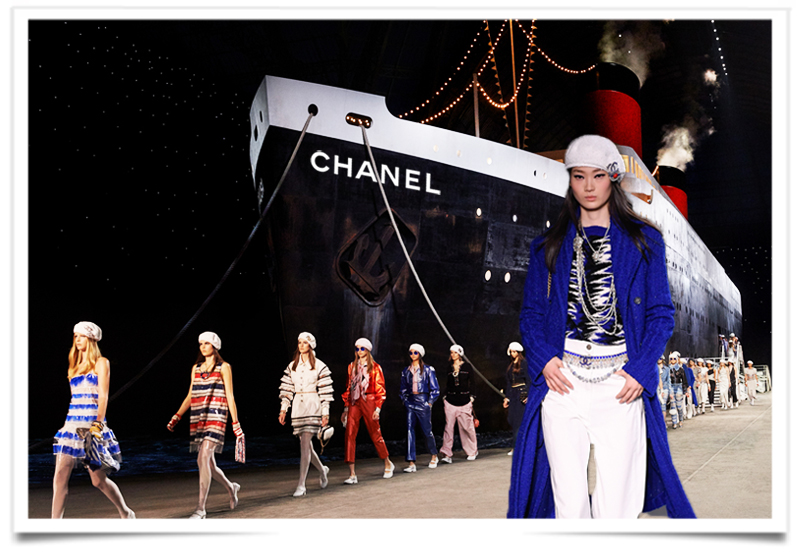 What is the better way to showcase a cruise than to be on cruise? In Paris, last night, at the Grand Palais, a vintage, live-sized dreamboat, specially constructed for the occasion, became the backdrop of a maritime collection, gingerly modeled on the fake pier.
Right there, in front of "La Pausa" boat (a reference to Gabrielle Chanel's Summer house on the French Riviera), models sported plenty of stripy sailor shirts paired with graphic wide-pant trousers.
Somewhere between Titanic and Fellini's "E la Nave Va", the collection playfully twisted its own classics. Berets came in fluffy terry cloth and were worn XXL with round 80s sunglasses, discreetly winking at Michèle Morgan in "Quai des Brumes".
The 1960s pop touch was contrasted by disco-ball-ish body-hugging dresses, sheer rhinestone embroided harem pants, not to mention plenty of gold buttoning and detailing.
Karl Lagerfeld provided the ultimate "Instragram moment," as the doors of the boat opened on the top deck and the man himself appeared saluting the crowd, the captain of this eminently couture crew.
Suitingly, the show was followed by a dinner reception inside the boat, all done up in a crisp white 1980s-inspired interior, accompanied by the sound of French acts Corinne and Sébastien Tellier.
What I initially considered a simple tongue-in-cheek take of the very idea of a cruise collection turned out to be a carefully planned reference to the house's past: Gabrielle Chanel, in the early twenties already, imagined elevated sailor wear lines for her customers vacationing in Biarritz.