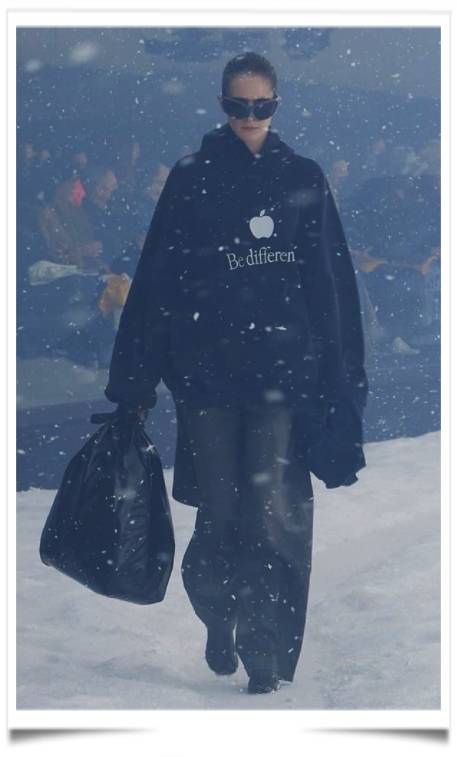 After water on the ground a snowstorm in a cup of water. Guests arriving at the giant exhibition hall on the fringes of Paris discovered oversized T-shirts the colors of the Ukrainian flag on every seat, and a note card from Demna, whose family fled the civil war in Georgia in 1993. "And I became a forever refugee.
His title for the show, "360 Degrees," appropriates the language of VR technology, which he subverted by recreating the same effect in real life behind a giant glass screen. It was something of a thumb in the eye to the metaverse, the latest comet hurtling toward planet fashion. The designer lives outside of Zurich and described "shock" at visiting familiar peaks at 3,500 meters and finding no snow.
He views this show as "chapter two" of his last IRL runway extravaganza pre-pandemic, which had models splashing through water in a dark, flooded arena as a metaphor for global warming. Before the lights went up, Demna's voice could be heard reading a poem in Ukrainian by Oleksandr Oles, whose message, he said backstage afterwards, tells Ukraine "to be strong, to focus on love."
Watching the models trudge through this fake winter storm, tightening into the wind and lugging what looked like garbage bags, added a third and heartbreaking narrative evoking the million-plus Ukrainians now fleeing the war. The collection was strong and did not bend to any of the storylines, but rather to Demna's garment-focused approach to fashion.