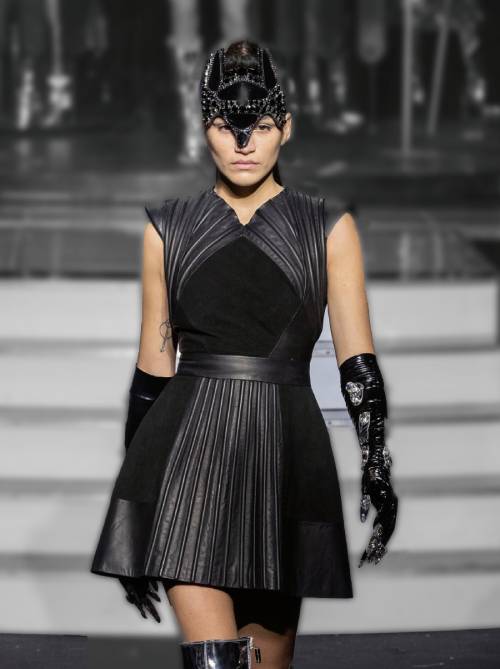 Hero of a night or hero of a life? Yesterday or the night before, it doesn't matter we fly on the Paradis Latin river for "On Aura Tout Vu". The night is blue, with a strange scent of clove, under the cold and slippery cobblestone, we were off to conquer the night and its aftermath. Dressed in an innocent vision to control the power of the image that will fly on our page and explore this world where the "Avengers" Heroes are everywhere and reign. Out of this Fashion Week soiled with all its evils, the two designers represent in our eyes freedom and humanity alone.
They both walk to the sound of the bell of time, like Lancelot whose pride made the ripe wheat of the mythical campaigns to sow hope, where the wrongdoers of preconceived ideas are rampant.
Their destiny was forged in the flame of a pyre of racism. Heretic yesterday, they will be the holy heroes of tomorrow to claim the great look of the fashion of yesterday. They are among our favorite designers because they innovate and shake up conventions without making us believe that the Black Power of the suburbs is a tsunami on which we must absolutely surf.
Friends of the Muses, and of Pegasus, like him, they create the source Hippocrene and make spring from it with a blow of hoof of the Vestals. Thus Pegasus allows this Greek hero to go up close to Zeus to defeat the Chimera who keeps the other seamstresses in a more conventional sewing, but certainly much less creative.
He descends from the Latin Paradise sky for our greatest pleasure, a Mugler show for a couture, in height of sanctity.
Yours sincerely,
Anonymode
Translated with www.DeepL.com/Translator (free version)