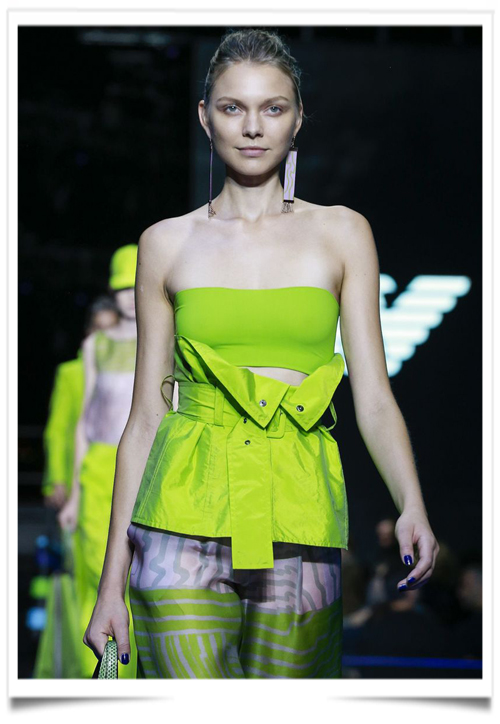 In 1996, Giorgio Armani was one of the biggest and most thrusting brand names in fashion and the man himself was among the richest people in Italy.
The logo isn't going anywhere. At a time when designers are tweaking the look of their logos (Burberry, Berluti and Celine ) Armani said he's keeping Emporio's as is. "It's mine and I'm holding it close," the 84-year-old designer said during a collection walk-through. This was his first show at Linate, and he said he was keen to make a connection between past and present.
That was one reason why Nineties heartthrob Robbie Williams closed the show in a black pleated skirt and matching sequin jacket and performed later for a crowd that numbered 2,300, including members of the public who won tickets to the event.
"Hello, I'm Robbie Williams, you might remember me from the Nineties. Tonight you are mine," he told a cheering audience before waving his black walking stick around and breaking into song and paying tribute to George Michael with a high-energy cover of "Freedom."
There were crinkles galore in the featherweight linen skirts and papery cotton fabrics that Armani used for trenchcoats, high-waisted trousers, and roomy tailored jackets in an array of beige and soft neutrals.
Color came in the form of head-to-toe Gatorade green for a suit, a tricky color at the best of times, bright pink for an opaque ankle-length anorak and dark blue on the spangles sprouting from the skirt of cocktail dresses. A lineup of sequin tap pants on men and women alike added some Las Vegas-style glitz.
"I was thinking about what Millennials actually like to wear, things that look to the past and recall Seventies and Eighties shapes. I also tried to understand what could be taken from the past and made modern. So you'll see jackets and coats that are part nylon, part leather with a vinyl gilet for a sporty touch. But overall, it's elegant and less about street."